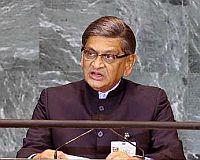 In an interview with Karan Thapar on CNN-IBN's Devil's Advocate programme, External Affairs Minister S M Krishna says Indians will continue to be a target for terrorists, in Afghanistan and at home, and that he's convinced the United States fully shares India's concerns on fighting terror.
Excerpts:
Both the Associated Press and The Washington Post believe the attack on Indians in Kabul on February 26 was the work of the Lashkar-e-Tayiba. As foreign minister, are you convinced, too?
We have no evidence otherwise. It is for all to see that the network operating from Pakistan -- the Lashkar-e-Tayiba, the other terrorist outfits and all -- are fused ideologically and operationally.
Did the government have advance warning, that Indian targets in Kabul were vulnerable and under threat from the LeT?
We generally had, that our missions and our volunteers who went there on humanitarian work are going to be under attack because what India has been doing in Afghanistan.
Why were we caught unprepared?
The nature of the work on which the Indians have gone is such that we cannot arm them. So, naturally they become easy targets, soft targets.
Has the time come to consider withdrawing or reducing the 4,000 civilian Indians involved in reconstruction, education and training?
We have been assured by the government of Afghanistan that they will be able to protect the Indian personnel who have gone there on the call of duty. We will also have to take some additional measures ourselves. These cannot be spelt out. But, we will have to be on our guard. We will have to realise the tremendous risks involved in a humanitarian mission like the one in Afghanistan.
The press has been informed by home ministry sources that the government is considering sending an advisory to Indians in Kabul about their security. In contrast, your spokesman has explicitly denied this. Is there a difference of opinion between your ministry, the MEA and the home ministry?
There is total convergence of opinion and assessment. We always exchange notes.
Many analysts believe Af-Pak has put at risk the dynamics of India's relationship with Afghanistan and Pakistan, to India's disadvantage. As American pressure on Taliban and Al Qaeda increases, they or their allies will seek to deflect attention by terror strikes within India or by targeting Indian soft targets in Kabul.
It certainly causes grave concern. We will have to be prepared for all such eventualities. We will have to be extra cautious in protecting our nationals, wherever they are.
The corollary to this is that in the short-term at least, Af-Pak could make India more rather than less vulnerable.
I am inclined to agree that we are a target and will continue to be a target.
America remains completely supportive of our role?
I am sure America is appreciative, as much as the people of Afghanistan themselves are appreciative.
As Afghanistan President Hamid Karzai looks for reconcilable elements of the Taliban to make peace with, a policy India has reservations, Pakistan's importance and leverage could grow exponentially.
The recent Conference in London on Afghanistan convened by the British Prime Minister drew certain red lines -- that any effort in Afghanistan should be Afghan-led, should confine to the Constitution of Afghanistan, and that there should not be any direct linkage with those organisations which are preaching  and perpetuating terror in Afghanistan.
If somebody, individuals or organisations, give up violence and allegiance to these terrorist organisations, and if they accept the Constitution, then they should be, I think, integrated into the mainstream.
On Thursday in Islamabad, President Karzai referred to India as a close friend but he said Pakistan was a conjoined twin. Does that not suggest the relationship is already changing?
It is a question of gradation of the relationship.
It grades India below Pakistan. That does not worry us?
We take note of that.
Let us talk about Pakistan. On the 13th, the home minister said, "Nothing has come out of the recent foreign secretary-level talks". Do you agree?
Nothing dramatic was expected from that meeting. It was only an icebreaker. We were trying to size up Pakistan's present thinking and we succeeded.
On the 13th, the home minister also has said that India believes at least one serving Pakistani Army officer, a Major Samir Ali, and another retired officer, a Major Abdur Rehman, were in the control room giving instructions to the 26/11 attackers. Does India now have proof of Pakistani state involvement in 26/11?
I have also heard and read what the home minister has said. And, we have provided dossiers to the Pakistan government.
Is this evidence in those dossiers?
I do not know.
Have we made our close allies in the West -- Britain and America -- aware that we have evidence of Pakistani state involvement?
In our own way, we conveyed to our friendly countries.
What was their response? It is no longer non-state actors.
I do not think it could be aired in the public domain.
But, are you satisfied?
We are satisfied that we have been able to bring this to the notice of the friendly governments like the US.
Let us come to David Coleman Headley, who is in the news. Now that he has decided to plead guilty and is likely to get a lesser sentence, are you beginning to suspect he could be an American double-agent who turned rogue?
We are closely watching what Headley will be saying or what Headley would be committing himself to in any court of law. Only then could we come to some conclusion.
Has America been upfront or do you have a feeling that they withheld details and information about Headley?
We are cooperating with the US and they are reciprocating in ample measure to fight terrorism.
Does that mean they are upfront and honest about Headley? No reservations?
No, I have no reservations.
It emerges that Headley was on the FBI radar for at least a year before he was arrested, which means that for a whole month before 26/11, he was under American surveillance. Yet, just five months later, the Americans allowed him to come to India without informing us. Have you taken that issue up with them?
We have taken up all relevant issues with reference to Headley.
Image: External Affairs Minister S M Krishna