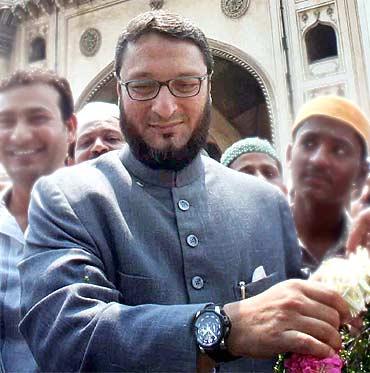 Almost two months have passed since the first reports that Hindu militants, suspected in Ajmer Dargah blast, were also linked to Mecca Masjid blast in Hyderabad. The Central Bureau of Investigation has picked up a right-wing activist Devender Gupta and others in this connection.
Now the bureau has moved a special CBI court in Hyderabad for a transit warrant to bring the suspects to Hyderabad for interrogation.
Hyderabad has viewed these reports with mixed feelings of relief, anger and dismay because till now the local Muslims bore the brunt as the police and the investigating agencies have always suspected the roles of Muslim organisations or youth in the blasts.
Member of the Lok Sabha from Hyderabad and president of Majlis-e-Ittehadul Muslimeen Asaduddin Owaisi told Mohammed Siddique in Hyderabad that at least now the investigative agencies should realise that a new front of terrorism has been opened with in the country by Hindu extremists.
What is your reaction to the reports that CBI has picked up some Hindu extremists in connection with the Mecca Masjid blast?
More than three years have passed since the incident and CBI has taken such a long time to reach the real culprits. I can't understand this delay, when there were clear leads indicating the involvement of Hindu terrorist organisations behind the blast.
From the day one, we have been saying that police and other investigating agencies should probe this incident with an open mind and not look at it only from the Muslim angle. But unfortunately within ten minutes of the incident a television channel started saying it was done by HuJI, another said it was the handiwork of the Lashkar-e-Tayiba, another said it was Inter Services Intelligence and fourth said that a boy called Bilal was responsible. Now we know that it was neither any Bilal nor any cross border terrorist organisation but the Abhinav Bharat which has done it.
Why you think so?
There are so many similarities between Ajmer and Mecca Masjid blasts. Both bombs were wrapped in Telugu newspapers. For both the blasts, SIM cards were purchased from Jharkhand in the same fake name. They (CBI) should have followed all these leads.
The most important thing is that a mix of TNT and RDX was used in both the blasts and forensic experts say only the army people can prepare such a thing. In the Malegaon case, Lieutenant Colonel Srikant Purohit was arrested but you shut your eyes from him. You shut your eyes because you don't want to admit that a Hindu organisation could be involved in such activities.
Both the government and the media treat them as holy cows and they think only Muslims can do such things. I appeal to the government to open their eyes at least now. They should realise that a new front of terrorism has opened in this country. There is an urgent need for a thorough probe into the activities of these Hindu organisations.
An activist was caught in connection with the Ajmer Dargah blast. Madhya Pradesh and Maharashtra have become the headquarters of the Abhinav Bharat. As long as intelligence agencies and the National Investigating Agency don't keep an eye on them and expose them, such incidents will continue in the country.
Muslims have been blamed for many incidents in the past?
How long will this continue? How long will they keep blaming Muslims? When the CBI director said that there was a link between Ajmer and Hyderabad blasts, they should have arrested the suspects long ago. I and many other members of Parliament have written to the government. It is not first incident. There have been a series of incidents involving Hindu terrorists. Abhinav Bharat exploded the first pipe bomb in Latur in 2001 and the second explosion took place in Aurangabad.
In 2004 during Ramadan, mosques were attacked in Jalna and Parbhani. In 2006, there was a blast in a Bajrang Dal office. In 2008 in Kanpur so much explosives were recovered from a Bajrang Dal office that the local superintendent of police said that it could have devastated half of Kanpur city.
In Maharashtra, theatres were attacked with bombs. The agencies should open their eyes. We don't want any trouble in this country because it is not good for the people be it Hindu or Muslims. We think that a terrorist itself is a new religion and Hindus and Muslims will have to unitedly fight against it.
Why you think it has taken such a long time to resolve the Mecca Masjid case?
I will still not say that it has been resolved. That will happen only when the CBI arrests the suspects and bring them to Hyderabad.  If you look at all the blast cases during the last three years almost all of them have been solved and culprits have been arrested and sent to jail. After the failure of the Hyderabad police, the case was given to CBI but it also could not make any headway.
Apart from the Mecca Masjid blast, Muslims in Hyderabad have been victimised at two other levels. One, the police opened fire on people outside the mosque after the blasts and secondly more than 100 youth were picked up and tortured and framed in false cases. The Justice Bhaskar Rao commission was constituted to probe the police firing but till date it has not given any report. The commission should submit its report and say who was guilty.
Image: Asaduddin Owaisi | Photograph: SnapsIndia