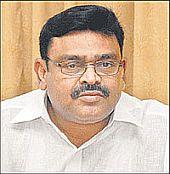 There is a battle on in Andhra Pradesh between Chief Minister K Rosaiah and Jagan Mohan Reddy, the late Y S Rajashekhara Reddy's son and the member of Parliament from the Kadapa Lok Sabha constituency.
Some observers suspect that some Congress leaders in Andhra Pradesh want to scuttle Jagan Reddy's political ambitions and even compel him to abandon the party which his father led to victory in successive elections.
There is talk that Jagan, 38, may launch a new party on September 2, his father's first death anniversary.
After YSR, Andhra Pradesh's powerful chief minister at that time, died in a helicopter crash last year, the Congress's central leadership was not keen on making his only son his successor.
Ambati Rambabu, above, Jagan's closest aide, who was recently suspended from the Congress party, says there is no plan to launch a regional party at the moment.
In this interview with Rediff.com's Vicky Nanjappa, Rambabu accuses Chief Minister K Rosaiah of "poisoning" the minds of Congress leaders in Delhi against Jagan.
It is said that Jagan will float a new party since the Congress high command has refused to play along with his ambitions. Is this true?
Of late I have heard these rumours too. We are in touch with Jagan and there is no such plan on the anvil.
Jagan will remain with the Congress and that is what we have advised him to do.
Jagan is not just any other leader who will be content with the post of minister. You mean to say that no matter what the high command says, he will remain in the party?
That is not what I meant. Things have not become so bad that he has to think of leaving the party.
He will have to wait and watch before he decides on anything.
He will go about doing his work, conducting rallies and working for the party.
Despite all this, if the Congress continues to push him away, I am sure he will take a decision on his exit, or to float a new party.
But as of now, there is nothing.
If everything is so hunky-dory, why then is there so much confusion about his Odarpu Yatra?
It has all been blown out of proportion. He undertook his yatra (supposedly to condole with the families of those who committed suicide after YSR's death) and there has been no problem. The response was great and you must have seen that.
I think too much is being made of his yatra in the first place.
What you are saying is not correct. Chief Minister Rosaiah did not want the yatra to go on. You can't deny that.
I never said that Rosaiah was supportive of the yatra. He is the one who has created all this confusion in the first place.
The television channel owned by Jagan telecast some news against Rosaiah's government. Ever since, he has been spewing venom against Jagan.
He is the one who has poisoned the mind of the high command against Jagan.
Where do you see the Congress going from here in Andhra Pradesh?
Everything will be sorted out in due course of time. We have faith.
You sound surprisingly optimistic about the party despite being suspended from it.
I am optimistic because my suspension is the handiwork of one or two people. I know some have played politics in my case.
All I had said was that it was not right for Rosaiah to celebrate his birthday within a year of Dr YSR's death.
I am more confused than shocked about my suspension. I have two weeks time to reply to the disciplinary committee and I am preparing for that.
I do not wish to spell out my response right now, as that would be too premature.
How has the high command reacted?
I have not got a single communication from the high command. I have written to M Veerappa Moily (the Union law minister and the Congress leader in charge of AP) regarding the same, but have not got any reply.
What does Moily have to say about Jagan?
It would not be right for me to put words into his mouth. My reading is that Moily knows everything about politics in Andhra Pradesh. He knows it right from the grassroot levels.
He is very aware that Jagan is a very strong candidate (for the chief ministership), and knows that his continuance in the party is very much needed for the Congress in AP.
Can you picture the Congress party without Jagan in Andhra Pradesh?
I cannot. His family has been in the party for so long and they have worked for it.
As a friend I would advise him to stay in the party and I personally do not want him to float a new party at any cost.
This is not just my view, but a view expressed by all his well-wishers.
Do you see him as Andhra Pradesh chief minister in 2014?
It is too early to talk about that.
What does Jagan have to say about floating a new party?
He is not in favour of floating a new party. He has decided to wait patiently and see how things will unfold in the days to come.
As of now, there is nothing on his mind.
Also See:
'Majority of Congress in AP is with Jagan'
Thousands turn up for Jagan's yatra
Over 100 Congress MLAs want YSR's son to be CM