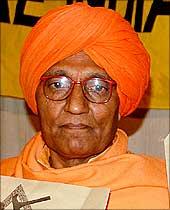 Social activist
Swami Agnivesh
had just returned on Friday evening after meeting Union Home Minister P Chidambaram, to demand a judicial inquiry into the death of top Maoist leader Cherukuri Rajkumar alias Azad in Adilabad district in Andhra Pradesh on July 2.
Chidambaram turned down Agnivesh's demand, saying that such a step could only be taken by the AP government.
Though Swami Agnivesh -- best-known for his struggles to liberate bonded labour --looked calm, his words during an exclusive interview with Rediff.com's Onkar Singh betrayed his feelings.
You had a long meeting with Mr Chidambaram.

It certainly was not a long meeting. The meeting had been arranged with a purpose.
I asked that the central government should order a high-level probe into the killing of Azad as there were different versions about his death.
The government's version is that he was killed in an encounter. But the Maoists say this is not true. They contend that Azad was killed in a fake encounter.

What was Mr Chidambaram's response?

He said there was no question of ordering a probe at the Centre's level. This comes within the jurisdiction of the Andhra Pradesh government, he said.

Are you disappointed?

I would not say that I am disappointed, but I want a high level probe to clear the air about Azad's death.
Unfortunately, the home minister did not think that it would be prudent to order a probe.

You have gone on record that Azad's death was a setback. Did you mention this to Mr Chidambaram?

Yes, I told him about it. I also told him that the circumstances under which Azad was killed are shrouded in mystery. He sympathised with me, but ruled out the probe.

When did you assume the role of a peacemaker between the government and the Maoists?

On May 11, Chidambaram handed over a confidential letter in which he lauded my initiative to negotiate between the government and the Maoists.

In his letter, he said, and I quote him, 'I learned that you led a group of social activists on a peace march from Raipur to Dantewada between May 6-8, 2010. I have also learned that you advocated a cessation of violence for 72 hours by "either side before starting the peace process". I congratulate you and thank you for your efforts,' he said in his letter.

What was the response of the Maoists to the government's proposal?

The Maoists had not rejected the government's proposal outright, but in turn wanted to be sure that the cessation of hostilities should be mutual. This was the response of the Maoists after reading Chidambaram's letter.
In a signed statement, Azad, as the spokesperson of the Communist Party of India-Maoist, said that his organisation desires peace in the interest of the Adivasis, who were being cruelly crushed.
He also asked me to go ahead with my well-meant mission.

Have you ever met Azad in person?

No.
Did the Maoists say that it was possible for them to cease hostilities for 72 hours?

Chidambaram wanted the process to begin within a given time frame. Azad issued the signed statement on May 31, 2010, but it was delivered to me only on June 7. The proposal to which Azad reacted was not my proposal, but that of Chidambaram.
He was killed on July 2, 2010. In their response, the Maoists had asked the government to take some confidence building measures.

What were those measures?

If you can get the copy of the statement, you can read for yourself. That is why I say that there is still a ray of hope.
Chidambaram insisted that before the Maoists come forward for talks, they must abjure violence.

Do you condemn the violence by the Maoists?

I condemn any kind of violence, which is either committed by the government or the Maoists or terrorists. Killing of anyone needs to be condemned.
We cannot differentiate between the violence committed by government forces or the Maoists.
Violence is violence, no matter who executes it. Killing is killing. It means loss of human life, and that has to be condemned by all right thinking people.

The home minister has many times asked civil society to condemn the killings committed by the Maoists. Do you agree with Mr Chidambaram?

Of course, I agree with him on this count. As I have said, a killing is a killing. Loss of human life needs to be condemned.

Of late, some leading political parties, including the government at the Centre, feels the time has come to deal with the Maoists firmly.

Nowhere in the world has the problem of violence by terrorists or groups like Maoists been solved by using the power of the gun. It could not be done in case of Kashmir. If the problem has to be sorted out, then you have to hold talks.

Will you continue your peace efforts?
I have a mission in life: Co-existence with peace, tranquility and harmony. I have dedicated my whole life to this cause. And there would be no let-up even this time.
I will continue my efforts for peace, till my last breath.