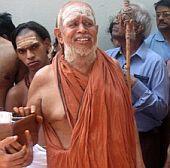 Sri Jayendra Saraswati, the Shankaracharya of Kanchi Kamakoti Peetam was in Thiruvananthapuram recently, as part of his across-the-country journey, to spread the ancient mutt's message.

The seer has in recent times been mired in controversy over his alleged involvement in the murder of a former mutt official. However, his followers continue to hold him in reverence.

While in Thiruvananthapuram he gave an exclusive interview to rediff.com's Arun Lakshman.
What is your present mission about?

I am travelling around the country to spread the virtues and values of the Kanchi Kamakoti Peetam and the essence of religion and its advantages to human beings in a troubled world. However, I am also on a talent hunt to spot persons who could become future spiritual leaders. There are several youngsters who are interested in serving the society, and I am trying to find the right people who can be the future of this country.

There have been allegations of caste-based discrimination in the Kanchi mutt. What is your take on this?

It is absolute rubbish. The Kanchi mutt is one place -- which I can vouch for -- which welcomes people from all castes, creeds and religions whole-heartedly. The Kanchi mutt has never shown any discrimination on the basis of caste or creed. We believe in equality for all and this is practised with all honesty in our institution.

What are your major activities?

The mutt is involved in various social and educational activities, as we believe that imparting good education to people from all walks of life can bring about social transformation. There are several educational institutions, including the medical institution in Thiruvananthapuram, a deemed university, Sankara colleges, the Ghatikasthanam (centre for advanced learning) at Kanchi and innumerable Veda Patasalas (Vedic schools) -- an international Veda Patasala is coming up near Kanchipuram.

The mutt runs several nethralayas (eye-care centre) and hospitals throughout the country, including the Sankara Nethralaya in Chennai and other south Indian cities. We also have the Sankara Deva Nethralaya in Guwahati, Assam, which is a testimony to our social activities spread across the country.

There are also several old-age homes for those who do not have anyone to look after them. We also run an institution in Nazarethpet near Chennai for the physically challenged. Besides this, our major emphasis is on reviving old temples that are considered as centres of economic and social activity in any community.

Being socially inclined, how do you rate the current political situation in the country?

Bharat (India) is a great country and it will rise to become a superpower in the world in all spheres, including education, healthcare, inventions and all other social indexes. And naturally, there would be a stable and people-friendly government in the country to spearhead this development.

According to me, political parties should be more dharma-oriented. There are grave situations like challenges from across the border, but being a country with great values and traditions it is only a passing phase before the country emerges to its own place in the universe.

However, more youths should come into the social and political fields to make a mark and to serve the people of the country.


The world over terrorism is happening and Kerala is also facing the ignominy of several Keralites being held throughout the country on terrorism charges. Unfortunately a lot of them are from the Muslim community. Your comments on this?
True Muslims can never become terrorists. There are several minds which are polluted by certain groups and people who get pleasure in creating tension and war in the country, and these people are handpicked for spreading terror. These youths are actually given a wrong perception of religion and beliefs, and this is creating a new breed of terrorists.

As far as Kerala is concerned, this state gave birth to Adi Sankaracharya, the great philosopher saint, and terrorism and related phenomenon from this soil will be wiped out. In other words, this is only a passing phenomenon.