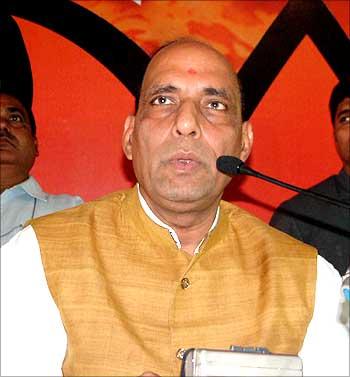 Rajnath Singh. These two words remind you that here is the man who failed to become a national leader. His tenure as president of the Bharatiya Janata Party saw ugly infighting. During his tenure the party tumbled because he could not inspire, but only conspire. Not only did the BJP lose a chance to grab back power from the Congress-led alliance but during his tenure the BJP's vote base shrunk, yielding the all-important political middle-ground to the Congress rejuvenated by support of votes of minority and young India.
There are actually two Rajnath Singhs. The one that reaches out to the people through the media comes out as an ace plotter with a divisive agenda. A hawkish Hindutva proponent that makes him unfit in a modern India, which wants faster development. It's no surprise that on the social networking web site Linkedin, 1,788 clicked on 'Throw Tomatoes' on his page and he got the thumbs down from more than 42,000 people.
But, there is another face to Rajnath that he wants us to see. He is accused of being Uttar Pradesh-centric but he says he is proud of his native place Varanasi and his farmer father's background in Uttar Pradesh from where became a lecturer in physics and got involved with the Rashtriya Swayamsewak Sangh.
His rise in the party was quick. He became chief minister of UP for a short spell and then got the party's top post despite its highly competitive intra-party politics. Rajnath thinks he got a bad press only because of the acute rural bias of the urban media.
Now, he represents Ghaziabad in the Lok Sabha and thinks he still has lot of political steam left. He is confident that the unfolding events within the party will help people see him in better light. His battle with the likes of Arun Jaitley and Arun Shourie is not over yet. He is trying to align with his successor Nitin Gadkari and Sushma Swaraj to remain in the game.
In an interview with rediff.com's Sheela Bhatt, Rajnath Singh defends himself by crying foul against the English media. While refusing to give candid answers, he spoke slowly but firmly with lots of nuance-filled sentences. He was defiant and unapologetic.
How do you see your tenure as BJP president?
I can't assess my tenure correctly. Only you can. I would only say that in those circumstances whatever maximum one can do, I managed. I do not want to spell out everything, because there may not be consensus on my views. But it's a fact that when I donned the responsibility, we had governments in Madhya Pradesh, Rajasthan, Gujarat and Chhattisgarh. In Jharkand, our government was unstable and later we formed a government in Goa. In short, we had five states where the BJP ruled.
During my tenure, the biggest achievement was to have a BJP government in south India. The workers and leaders in Karnataka get the credit of it. Now, when I have stepped down, we have a government or political alliance in power in seven states. In Bihar and Punjab, we have an alliance.
During my tenure, for the first time in the history of India, any political party has managed to form polling booth committees at the national level. The BJP has managed to cover 70 percent booths. During my tenure we amended the BJP constitution to give 33 percent reservation to women within the organisation. I thought if Parliament and other legislatures are taking time, let us give reservation to women in our party. I have never tried to establish myself 'above all' within the party. I have ensured that I remained connected to the grassroots when I was at the top.
How do you see the BJP's defeat in the 2009 general elections?
If you want to fix the responsibility then I am surely responsible.
But what were the reasons behind the defeat?
Not only in India, no political party in the world has been consistently winning elections.
But yours were successive defeats.
That is possible. You can lose a third time also.
But you must have analysed something.
On the basis of my political experience, I would like to share that many veteran politicians and journalists normally give one or two reasons behind wins or defeats. But as a person working among the people on the ground, I would like to say that in any election there are not just one or two reasons behind defeats. Always there are different reasons in each state. There are some states in our country where the reasons behind defeats changes from constituency to constituency.
Why are you not saying straight up that the BJP could not emerge as a better alternative to the incumbent government?
I do not want to say that. No. We have performed the role of opposition within Parliament and also on the streets. You are saying on the basis of one or two events that we haven't played our role well. I can surely say that our performance as the opposition party of India was better than the performance of the Congress when it was the opposition party during the National Democratic Alliance government; still the Congress came to power in 2004.
During the four years when you were president, leaders like L K Advani, Arun Jaitley, Arun Shourie didn't walk with you or may be, you didn't carry them with you. There was tremendous infighting. The media also criticised you when the controversy involving Sudhanshu Mittal and Vasundhara Raje erupted. Can you throw some light on the facts?
First thing, I would like to say that it is true that two-three newspaper guys were around who used abusive words against me in print. It hurt me. I am carrying the scars even now. The media has the right to criticise but one should be guarded in using words. I also know I was praised in the vernacular press.
What about criticism by your own leaders?
Privately they may have been criticising me, not publicly.
Would you say that Advani co-operated with you fully?
Everyone co-operated with me.
In that case, why such a fall for your party?
Where is the fall? Some time back the Congress won 114 seats when it was in the opposition, we have come back with 116 seats. We are running the government in six states with a clear majority. How can anyone term it as a fall? It's beyond me to understand how such a perception has been formed.
What about internal fights?
What fights?
The fights between you and Jaitley…
Hamare jhagde kisi se ho hi nahin sakte (I can't pick up fight with anybody).   
Since some time there is the perception that the BJP president did not have any say during the election and after it also.
Normally, during the election, an election management committee is formed in parties. When the party president is a public orator his work gets confined to addressing public meetings. Check out from the party office who addressed how many meetings in the 2009 elections. In spite of fighting the Lok Sabha election, I spent only three days in my constituency. From Andaman to Nicobar to Dadra Nagar Haveli and to the cities there is hardly any state where I have not addressed a meeting. Let me clarify also that I didn't fix those meetings. I addressed those meetings on demand from those areas.
What you are trying to say is that you got support from everybody in the party and you tried your best. If that was so, then Nitin Gadkari would not have emerged from obscurity. Why would Advani leave his post in Parliament if things were fine in the party?
Advani resigned voluntarily.
Obviously it is according to the plan of RSS chief Mohan Bhagwat. Don't you remember how one after another the leaders went to RSS headquarters to see Bhagwat?
We are swayamsevaks of the RSS and respect Bhagwatji. He had come to Delhi after a long time so we went to see him.
Bhagwat has publicly spoken against groupism in the BJP.
The RSS surely has the right to advise the BJP. The RSS has the right also because the swayamsevaks constitute the biggest numbers within the BJP. Also, out of all political parties, the BJP is the closest to the RSS's political thoughts. The RSS would be pained if they find some problems and it is natural for them to advise us.
What do you think about Gadkari's nomination?
He may not have handled responsibility outside Maharashtra but it doesn't mean that he is inexperienced to work on a big scale. Maharashtra is the biggest state after Uttar Pradesh, there he has had a long-standing career. He has been a minister in the state government and was judged the best performing minister at that time. People have seen how creative he is. I know he is a man of ethics and he is rational and efficient, too. I have seen a fantastic capacity in Gadkari to take the people along with him. He doesn't want to hijack anything, he doesn't want to impose himself on anybody. Modesty and humility are his hallmark.
Even you had the capacity to take people along with you, but people didn't walk with you.
Whether they walked with me or didn't walk… you may judge.
We think they refused to walk along with you.
Okay, then you may write so. If all of you are writing so then there must be something wanting in me.
That's why I am asking you again and again, what is your opinion in the matter?
I would surely like to say that my political movements are not driven by the media because I live in a village. I work at the grassroots. If someone's politics is media-driven then let it be! But Rajnath Singh's politics are not media-driven.
What is your politics all about?
Work-driven. I am a worker of the party. Some media people also wrote that 'gaon ke hai, panchayati hai' (he belongs to a village and is fit for panchayat-level politics). This means in the eye of the media the person from the village is not a human being. To them he looks like a devil. How can you trust that media? The media should ask themselves: who are they?
Gadkari was made BJP president by the RSS?
The RSS has not played any role in Gadkari's nomination. Since he belongs to Nagpur people are linking him to the RSS. Yes he is a swayamsevak of the RSS. All of us have played a role in bringing him to New Delhi.
Our understanding is that within the BJP there is a section who understands that India is changing and it's time the BJP gets a moderate face and matches the aspirations of a growing India. You are being criticised because your image is hawkish on Hindutva.
The BJP's ideology has never been hawkish. What's your definition of moderate? Which is the ideology more moderate than Hindutva or cultural-nationalism in the entire world? Yes, I can tell you with authority that the BJP can never indulge in appeasement merely to satisfy its greed to form the government. We won't discriminate but will be fair to all.
People criticised you so much because of your overt links with the RSS which is getting outdated.
Not just one but even if the entire world turns against me I will remain committed to the RSS ideology. I understand your question. Those who don't understand, I want to tell them that we believe in that Hindutva which has been defined by the Supreme Court. Its judgment says that Hindutva is not communal. I want to ask those progressive people their comment on the Supreme Court. If they dare let them comment against it.
What was the need for the post of chairman of your parliamentary party?
Advani wanted to leave the post of Leader of Opposition. It would not have been proper that he remained without a post. We wanted him to guide us so we created this post.
That would mean there will be two centres of power in the form of Advani and Gadkari. One is the chairman of the parliamentary party and other is party president.
No, we won't have two power centres. The centre of power will be the BJP's party president. Advani is our guide. Gadkari will be the 'power centre'. The BJP's supreme authority will be Gadkari and Advani will be our pathfinder.
You didn't get any post in the reshuffle. Why?
I didn't claim the post of Leader of Opposition. Sushmaji was a natural choice for the post. She has been deputy leader before. She has been adjudged best performing parliamentarian. Rajnath Singh can't compare himself with Sushmaji in articulation. I am not saying this only to the media. I am saying it to all those who should know about it. I don't play politics of hide and seek. I don't talk much so my ideas don't reach the people.
If you really think you are right, then how come you are unable to convince young people? Congress leaders like Rahul Gandhi, Sonia Gandhi and Manmohan Singh convinced them and got their votes and emerged victorious.
After all, we are better than those hundreds of political parties which came into being and got knocked out. Today, there is no trace of those political parties which were formed after independence. The BJP is the only political party which has acquired the status to come up to the level of the Congress. We are better than any other political party. We could take on the Congress and carve out our party when the Congress was winning three-fourths majority. Why should we be afraid of the Congress now?
Why is the BJP not understanding that any politics that divides people into Hindus and Muslims won't work in young India?
I feel pity on the people who talk in terms of Hindus, Muslims, Sikhs and Christians. Those who do not understand our idea of cultural nationalism think like that. These poor guys have never tried to understand us. I have started feeling that it's not within their grasp to understand our ideology.
Isn't your ideology behind your electoral failure in 2009?
Our ideology is the reason behind our success.
We lost once or twice but look at it differently. We were zero and now we have raised our stature to become a big national party. Yes, it's true that we don't have enough young shining faces from famous families.
Rahul Gandhi is gaining ground in Uttar Pradesh. He has beaten you in that politically important state. Even then you are not accepting it.
We do believe that we need to work hard. We defeated them in the past, they defeated us now. It's their time today, our time will come too.
What's the reason behind Rahul's success?
I don't want to talk about any personality.
After all, he is a force to reckon with.
(Gets exasperated) What are you talking! We don't think in these terms.
In 1991, people were talking about us. There are people who sail with the wind. There are some people who are over-educated. When they see power they start crawling before it. The media doesn't have the courage to speak against the landing of Rahul Gandhi's helicopter. Their state president herself told the media that he put his life at risk but no one could dare to speak a word against him. How can you trust such a media?
In my case, my flight landed only because my captain decided in favour of it. But the media wrote against me that I am feudal. The media wrote against me because I belong to a poor farmer's family. I am from a rural area. I don't belong to any dynastic family. If I would have been from a royal family they would not have nerve to write against me the way they did. You may note down that tomorrow if I become powerful the same media won't have the guts to write against me.
How will senior leaders accept a junior man like Gadkari?
Whoever thinks that someone is small or junior, he himself is a small man.
During your presidentship, your counterpart in the Congress was Sonia Gandhi. How were your relations with her?
We talked a few times.
How do you find her personality?
It was okay. We have not met one-on-one but three or four times we talked on the phone. We would greet each other during birthdays by calling each other.
Don't you think through her actions she has successfully changed her image from being a person of foreign origin?
I don't believe in such things. But, I will not speak on her personal matter. I believe that she is my country's former prime minister's wife. Whatever she is, I respect her.
Isn't she a successful party president?
You may do the assessment. The Congress has won the Lok Sabha elections so she can be termed successful. I pray that she remain happy and cheerful. I respect her. This is not rhetoric. I genuinely respect her. When people were talking ill of her even then I respected her. I always remember that she is the wife of Rajiv Gandhi, a former prime minister. Also, she is a woman. That's enough to respect her. I don't think anything else.
Do you think Rahul Gandhi is a future prime minister of India?
What, the next government won't be of the BJP?
Do you have any regrets?
Atal Bihari Vajpayee was around in the first few years of my term. I was guided by him. When he got bed-ridden that gave me trouble. When Pramodji (Mahajan) died I became too emotional. That was a huge setback to me. Third… let me not speak.
Tell us, please.
I wonder how people form wrong perceptions. Show me one decision that I have taken without asking my senior colleagues. You can take it for granted that I don't play foul games. One day things will come in front of people (about the intra-party conflict). This is not a simple game. Don't ask me questions. Time will give answers.