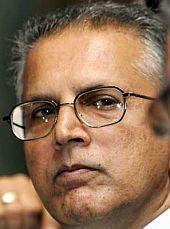 Home Secretary GK Pillai talks to Aditi Phadnis about police reforms.

What is the current focus of the Ministry of Home Affairs (MHA)?
Ninety per cent of India's internal security problems are because there haven't been comprehensive police reforms. We want to change this, beginning with the way the force is recruited.
What is the situation today? If a policeman is recruited on merit, he is good at his job. But if he pays money to get recruited, he spends the rest of his professional life looking for ways to get back his 'investment'. So, recruitment has to be fair, and it has to be transparent.
Then there is the problem of manpower shortage. The sanctioned and actual police personnel per 100,000 people (police-population ratio) at the all-India level was 145.25 and 117.09, respectively, on January 1, 2007. The number of policemen per 100,000 people in India is 130. The minimum United Nations norm is 220. At 220, we are approximately 600,000 policemen short.
There are vast disparities in this figure among states.
So, our micro-mission is, recruit more policemen and recruit quality policemen. To that end, we have revised the recruitment procedure.
In what way?
By removing the subjective element in recruitment. Recruitment by the central government has been redesigned to give up the weightage given to interviews. We are emphasising more on physical fitness.
But police is a state subject
Yes. So, we have sent an advisory to states, asking them to review the recruitment procedure. The full results of this are yet to come, but the first to act has been Uttar Pradesh. The state has recruited close to 20,000 policemen under the new system. This will be followed by senior-level recruitment. We want states to recruit 80,000 policemen a year. So, with a shortage of 600,000, it will take us five-six years to recruit.
Then, there is the question of training. We want police training institutions to be upgraded and we have written to the 13th Finance Commission that, though no state has asked you for this, states need money specifically for this. There are training institutions for the Indian Police Service (IPS) officers but there is little or no training for constables and sub-inspectors.
You would think that police recruitment would be top priority for state governments.
It is, but for the wrong reasons. Every political party thinks it owns the police and can use it to get people to vote for it. There are four police training schools in Jammu and Kashmir, but training there is virtually nil. Bihar has no training school at all. As a result, a policeman gets into the force and is thrown into the deep end. He learns on the job how things are done. He learns how not to file first information reports (FIRs) and how to write FIRs so that he doesn't have to exert himself too much. Take a simple thing like cyber crime: Even a deputy superintendent of police might not know how to use a computer, let alone how to solve cyber crime – in his 35-year career, there is only one spell of training. How can he track new developments in this area?
We're putting the changes in place. The first impact of these will be visible in three years. But it will take seven-eight years for the police force to be effective in India.
Let me give you an example of shortages. In an area as sensitive to left wing insurgency as Dantewada (Chhattisgarh), there is only one police station, in Antagarh. Until a year ago, its sanctioned strength was 11. At a given time, six-seven policemen used to be present there. They were given no arms because there was a danger that the Naxalites would snatch their arms. The Naxalites were, of course, happy about this as overpowering the policemen would have taken them 40-60 minutes. Now, the strength has been increased to 30. We've deployed the Border Security Force there as well.
State governments also seem to want the right sort of policemen.
Transfers are governed by the Police Establishment Board. In UP, for instance, the average tenure of a superintendent of police (SP) is two months. They land in the district not knowing what it is all about. Before they can find their feet, they are moved out. Subversion is the easiest thing.
I can say without hesitation that in this matter, AK Antony, to whom I was a special assistant when he was the chief minister, was exemplary in his conduct. He refused to interfere in appointment of policemen. But if anything went wrong, the SP was held responsible. On the other hand, if the SP is beholden to a particular MLA for his appointment, he has to become a servant to that MLA. This happens all along the line.
West Bengal is a classic case. When the Lalgarh operation (against Naxalites) was on, we posted the Central Reserve Police Force (CRPF) there, but the force was not familiar with local operations and language. So, we got the police station reinforced by policemen from Kolkata. One weekend, we found the police station was deserted. So, we made some enquiries. We were told that the policemen had left for Kolkata — they belonged to the CPI(M) union and observed a five-day week.
In West Bengal, if you have to file an FIR, the police will direct you to the CPI(M) area committee office. The first thing you will be asked is: Are you a member of the party. If you're not, the chap there will say: 'I'm sorry, I can't help you'. If you are, you will be given a chit and asked to go back to the police station, where your FIR will be registered.
So, West Bengal has no law and order problem because the party has solved them all.
What are the other ways in which police can be made more effective?
We're giving them better arms. We're putting immediately in place housing facilities for them. In five or seven years, you will have, I hope, a qualitatively better police service.