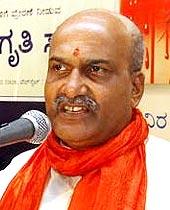 When one speaks of Valentine's Day, the immediate thought that comes to mind is the mindless ruckus that was caused in Karnataka last year on the issue.
It started off with an assault on women at a pub in Mangalore which then spiralled into violence over Valentine's Day celebrations.
The Sri Ram Sene in Karnataka was blamed for the violence and its activists had openly proclaimed that they were not in favour of people celebrating Valentine's Day.
Their aggression was countered with a strange campaign, called the 'pink chaddi' campaign, in which some women sent pink-coloured undergarments to every member of the Ram Sene.
As Valentine's Day approaches this year, the government in Karnataka is making all arrangements to ensure that the celebrations are not disrupted.
The Ram Sene, on its part, says that it has no intentions of disrupting the celebrations. Ram Sene cheif Pramod Muthalik, in this interview with rediff.com's Vicky Nanjappa, says that his organsation will create a huge awareness drive against Valentine's Day.
What is the Ram Sene planning against Valentinne's Day celebrations this year?
People are free to do whatever they like. We have decided not to resort to any violence. Nobody can drag us into creating any kind of violence and our members don't want any trouble. However, we have a huge awareness programme, which has already commenced all across Karnataka, and even on Valentine's Day, we will continue with the programme.
So basically moral policing again.
It is not moral policing.
Who has given you the right to do this?
I don't need anybody's permission for this. We are a responsible organisation and we think that we need to conduct an awareness campaign, since the girls of our society are getting ruined because of this.
Why not an all-year-round vigil, if you are so very concerned about our girls?
We are always on the look out. Women complain to us about atrocities and we take care of their problems. It is not as though we express concern only during Valentine's Day.
But you are in the limelight only during Valentine's Day.
Maybe because you chose to interview me only before Valentine's Day.
Anyway what sort of awareness are you creating?
We have gone to schools, colleges and hotels and told them not to support Valentine's Day. We have been distributing pamphlets. We have told all of them that Valentine's Day is aimed at ruining our culture. We are hopeful that the colleges and schools will support what we are saying in the interest of the children who get blindly carried away.
Can you give us an assurance that there will be no violence?
Yes, we can give an assurance. We will not do anything to those who celebrate Valentine's Day.
Remember the 'pink chaddi' campaign? What do you think about it?
What kind of agitation was that? Was that decent? Being women, they are sending undergarments and making a public issue out of it. Do they even belong to our culture? It is some other culture, and I don't want to speak the language that they deserve. I don't have to give my opinion about them. The people of India know what those women are. They will give their opinion.
If they resort to such a campaign once again, what will you do?
We won't do anything. Let them do what they want. We don't deal with street people.
You raised your voice against Love Jihad. Can you tell us something about it?
Yes, our organisation is very much on the job. The available data shows that since the past three years, 8,000 Hindu women in Karnataka alone have been forcibly converted. We have made CDs and pamphlets on this issue. We are going from village to village creating awareness. We have been successful to a large extent on this. The Karnataka high court too has taken a note of this matter, and has told the police to look into the issue.
You are considered to be a prodigy of the Shiv Sena. What are your thoughts about their current actions?
We need to blame Jawaharlal Nehru for creating states on the basis of language. Now that it has been done, nothing much can be done about it. I agree that locals should be given preference in any state, but not at the cost that nationalism and patriotism.
Earlier you had spoken about women getting ruined due to Valentine's Day. What is the basis of this statement?
Since last year, 118 women have committed suicide, 320 have been raped and Rs 3,000 crore worth of roses sold. This itself tells a big story. Women are being dragged into celebrating such a day under the pretext of love, and they are being used for wrong things.
Many women are trapped into such things. Look at the sale of roses, a market which is being controlled by the multi-national companies. Who is benefiting? Moreover, it is during Valentine's Day that the sale of drugs is also very high. Women are being induced into all this, and in the bargain they are being ruined.
There are genuine cases of love as well. How can you stop a natural emotional feeling?
We are not against love. But why fix one day for love? According to me Valentine's Day is not about love, it is just about lust.
If your intentions are so correct, then why is it that your activists go to jail?
That is the sad part of it. We are being fixed because we are protecting women. We are being fixed because we tell people not to take drugs.
Sir, you are being fixed because you hit people and tell them not to celebrate Valentine's Day.
That is incorrect. You please take your words back.
The Bharatiya Janata Party government in Karnataka has said that it won't tolerate anyone disrupting Valentine's Day. What do you think of this?
Does this government have any sense or brains? Is this a statement they should be issuing? I don't agree with them at all. However, we are not planning on disrupting the celebrations. All we want is to create awareness,  so that people realise it on their own.
Image: Sri Ram Sene chief Pramod Muthalik