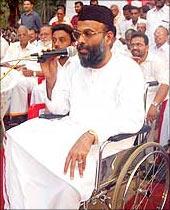 Abdul Nasser Madani
, chairman of the Peoples Democratic Party, who is facing imminent arrest in the 2008 Bengaluru blast case claimed that the National Investigating Agency and the Intelligence Bureau have hatched a conspiracy to finish him off politically. Madani spoke to 
rediff.com's
Arun Lakshman
from Anwarassery in Kerala's Kollam district on Wednesday.
Are you evading an imminent arrest ?

I have never said that I will evade arrest. I am a law abiding citizen of this country and if the Karnataka police comes with an arrest warrant from the high court then I will comply with the law. I once again stress that I have highest regard for the judiciary.
The Karnataka police's chargesheet states that you were part of a conspiracy hatched at Coorg and that (accused) Thadiyantavida Naseer said that you were present there. What is your take on this ?
I have never been to Coorg. After I was released from Coimbatore central prison after eight years, I was accompanied by armed police guards. How can I go to Coorg without leaving any trace, while I am guarded by policemen round the clock ? I don't have any relation with people like Naseer. I had once shunted him out from Kollam. Ever since that incident, Nasser had acted like my enemy.
An eyewitness says he saw you coming out of a car in Coorg. What do you have to say about this?
I deny having ever visited Coorg. The witness, according to the chargesheet, has said that I was seen coming out of a car wearing a cap and that I am a bearded man without a leg. After my leg was amputed, I have never travelled in a car, all my travels are by van. I also suffer from chronic back pain and cannot sit up for long hours. My condition prevents me from alighting from a vehicle unaided. I have to be either carried out by someone or move around in a wheelchair. If I had used an artifical leg then how can the witness testify that I am a person without a leg. This proves that this is a fabricated witness and that there is a major conspiracy hatched by the investigating agencies to finish me.
Whom do you blame as the major conspirator?
The NIA and the IB have conspired to finish me off in a Karnataka jail. However as I had said earlier, I am a law abiding citizen and give full respect to the judiciary. I am not afraid of the police or the government but have full faith in judiciary and will comply with the arrest proceedings once the police comes with a warrant.
Will your arrest create any communal problem in the state?

I have already directed my cadres not to take law into their hands and I can guarantee that there will not be any law and order problem in the state if I am arrested.
PDP leaders have said that you are suffering from various ailments and that you should be taken to a hospital. What is your current condition?
I have high fever and cough. A sample has been sent to a medical lab for tests, to determine whether I am suffering from H1NI (Swine flu). I am a chronic diabetic and have problems with my back and suffer from a heart ailment.

There are reports that you have terror links and that you have been the motivating force for all the youths who had taken to terror and terror-linked activities from South India.
I have never supported terror activities and have never been an inspiration to any youth who had taken to terror. These are all conspiracies and half-baked lies which are being spread to finish me off politically in Kerala. I don't know what the future has in store for me, but I am an ardent believer of the supreme power and have the mental strength to overcome any obstacle. I can only say that I am a person who has strived for the upliftment of the downtrodden and the outcasts and for that I have had to pay a heavy price.