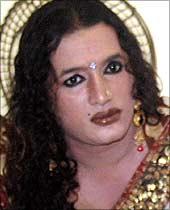 Besides being the 'unofficial spokesperson' of the eunuch community and gay activism,
Laxmi Narayan Tripathi
is one of the prominent eunuch celebrities of India. Recently she was in the news for being chucked out of the Bombay Gymkhana.
Intelligent, well educated and bold, a trait common among the transgender community, Laxmi she is busy working for the welfare of the sexual minorities through her non governmental organisation Astitva. Laxmi speaks to N Ganesh on the discrimination faced by her and the members of her community.
Now that the human rights organisations have taken cognisance of the Bombay Gymkhana's discrimination towards you, how has it been since then? Is there anything you want to tell the management of the club?
I don't have anything to tell them. They are cheap. Even so many days after the incident, they do not have the decency to apologise.
Why does the eunuch community sympathise with homosexuals?
We share the same discrimination in society. Eunuchs and gays are disowned by their families and not accepted by the society. We identify ourselves as a sexual minority, and hence we sympathise (or empathise?) with homosexuals.
You are a graduate and hold a post-graduate degree in Bharatnatyam. How do that you relate to the rampant superstitions, which are entangled with the transgender community?
Eunuchs have been a religiously accepted community for several centuries. There are several myths and misconceptions.  I cannot deny the fact that I am a eunuch and it is my community. I tend to accept it despite superstitions.
What is the criterion for being accepted by the eunuch community?
You have to be a eunuch by birth or by choice and accepted by a guru who is also a eunuch. The disciple has to obey the guru's command at all cost. Usually disciples live with their gurus. I am also a guru and my disciples live with me at my residence.
What are your views on castration?
I feel castration should be legalised, as Tamil Nadu has done. This will reduce the injuries resulting from castration without medical supervision. On second thoughts, if sexual reassignment surgery is legalised, there will not be any need for reassignment. Meanwhile, the eunuchs should not be treated as second-class citizens.
Eunuch sex workers are among the high-risk group for contracting and spreading HIV. Your thoughts?
It is true that eunuchs indulge in high-risk behaviour and as a matter of fact HIV prevalence is highest among them. There are about 3 lakh eunuch sex workers in Mumbai, and half of them are HIV positive.
What can be done to reduce the incidence of HIV among the eunuchs?
Though NGOs like Astitva are striving to spread the awareness of HIV, the government has to participate in a big way. The message that prevention is the only way to be safe from HIV should be hammered into their minds again and again. Condoms have to be provided to the NGOs, so that it reaches the sex workers. 
Image: Laxmi Narayan Tripathi