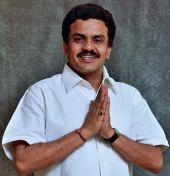 Sanjay Nirupam, Congress MP from Mumbai and the party's spokesperson in Maharashtra, can't criticise Congress ally Nationalist Congress Party too much, but in this interview to Saubhadro Chatterji, he does try to do so. Edited excerpts:
Will the IPL controversy have any effect on the Congress-NCP ties in Maharashtra?

Not at all! I don't think it will impact our mutual relations because the controversy has nothing to do with politics. IPL is a cricket carnival and prima facie there are aspects of it that are quite fishy. I am grateful to the government and the finance minister for promptly ordering probes in those issues. But it will not impact our relations because both parties have mature leadership.
Your party has removed Shashi Tharoor from the minister's post. Now the names of two ally ministers, Sharad Pawar and Praful Patel, are doing the rounds. Shouldn't they too step down and clear their names?

The whole thing relates to morality. And morality is a very relative term. It depends on how much one personally believes in it. Our minister realised that it is improper for him to continue as he had been alleged for misusing his office. He stepped down and even demanded a thorough probe. So, it is up to the other ministers or anybody else to decide what they need to do. Personally, going by whatever reports have come out so far, I don't think their offices were misused. Forwarding emails is not a crime.
What should be the role of the government in this IPL fiasco?

I appreciate that a new format has come up, a huge cricket market has been created and the credit, no doubt, goes to IPL. But, now, it's high time the government regulated BCCI and IPL. Everything should be transparent. There are three things in our country which were never regulated by the government and in all three sectors, India has excelled. These are -- beauty contests, the IT sector and cricket.
In IT, the government formulated rules and regulations much later, after India had become a major IT player in the world market. This IPL controversy has come at a right time and will help in the improvement of cricket. The government should intervene and regulate things in cricket. I don't know what should be its form, but there should be some regulations now in the business of cricket.
Your allies in Lok Sabha, like Mulayam Singh Yadav (SP) and Lalu Prasad (RJD) want a ban on the IPL tournament. 

I am not in favour of banning IPL. Parliament should not decide whether T20 cricket will run in the country or not. Tomorrow, an under-arm cricket tournament may come up. Under-arm cricket is extremely popular in Mumbai. Will these so-called moralists then cry that cricket is dying? There can be a tournament for ring football, another popular Mumbai sport.

But, yes, in the name of commercialisation of cricket, if there are malpractices, there should be a thorough inquiry. Lalit Modi being the IPL commissioner is responsible for all these controversies -- be it telecast rights or franchise allotments, the buck stops with him. Lalit Modi is very close to BJP. He is under scrutiny for several misdeeds during the regime of Vasundhara Raje. I would like to urge my government to please get into the details of Lalit Modi's activities.
Opposition wants to have a Joint Parliamentary Committee (JPC)...

Demand for a JPC is nothing new. Whenever a big issue comes out, the Opposition demands a JPC on the argument that it will be a fair, unbiased probe involving all political parties. I was a part of the JPC on cold drinks issue. But, whether the JPC will be able to get into the depth of this issue is a different question. Can the parliamentarians understand the financial complexities involved in IPL? I don't know.
The Opposition accuses your government in Maharashtra of producing a deficit budget, but not levying entertainment tax on IPL which could have earned a few crores of rupees.

It is a good point. I welcome the suggestion and I am happy to inform that our chief minister had once suggested but it couldn't happen because of pressure from other quarters. But, I also want to ask the Left, BJD and BJP why they didn't impose entertainment tax in the states they ruled.