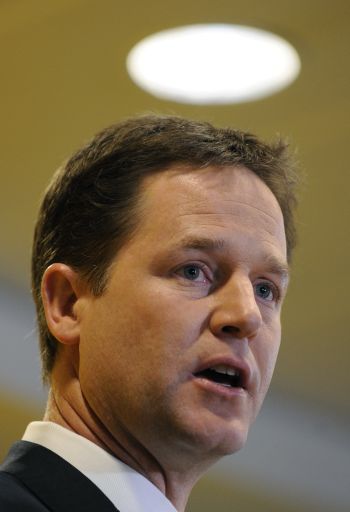 Poor David Cameron. How quickly things can change.
Just a week ago, the leader of the United Kingdom's opposition Conservative Party was an overwhelming favourite to topple Gordon Brown's ruling Labour government in the 2010 UK general elections on April 6. Cameron himself seemed set to become the first Conservative UK prime minister since John Major in the 1990s and the youngest UK prime minister since the early 19th century.
The well-bred, centre-right 43-year-old's possible ascension to that position had been widely discussed in recent months, as Conservatives built a seemingly unassailable 20-point lead over the unpopular Labour government in public opinion polls.
But now another 43-year-old political wunderkind threatens to undo Cameron's designs, and in the process throw the next UK government into uncertainty.
Meet Liberal Democrat Party head Nick Clegg, whose strong performance on April 15 against Brown and Cameron in the UK's first ever televised general election debate has vaulted his party to first place in the election, less than the weeks before UK voters go to the ballot.
Riding a wave of anti-incumbency, the Liberal Democrats -- historically a third-place, also-ran part -- hold a one-point lead over the Conservatives, 33 percent to 32 percent, while Labour languishes in third at 26 percent according to the UK's Sun newspaper.
Meanwhile, "Clegg-mania," as the phenomena has been called in the press, is no joke: A Sunday Times poll measured Clegg's approval rating at 72 percent -- the highest of any UK party leader since Winston Churchill.
In the first debate, Clegg's easy on-screen presence reminded some commentators of former US President John F Kennedy's debate performances in the 1960 presidential election -- performances that are widely credited for securing Kennedy's eventual victory over Republican candidate Richard Nixon.
Playing Nixon is current UK Prime Minister Gordon Brown, who's regarded as the weakest television performer of the three major party leaders. But Cameron, a former television executive, was also criticised for a dispirited and lacklustre first debate.
They square off again tonight, in the second of three televised debates. Their arguments will focus on foreign policy, a topic which promises fireworks: Clegg, who was elected leader of the Liberal Democrats in 2007, has been stridently opposed to the Iraq War since joining the UK Parliament in 2005, while Labour and Conservatives have supported the UK's efforts there.
Questions about the UK's relationship to the European Union are also likely to figure in the debate. Historically, Liberal Democrats and Labour have been pro-EU, with Conservatives offering a more tepid response.
Clegg is also a vocal supporter of nuclear disarmament, and has advocated the dismantling of the UK's nuclear weaponry, a point almost sure to be raised tonight.
He favours strong international pro-environment measures, and has long been associated with the Green Movement.
If Clegg can cling to his lead, it will almost certainly guarantee a hung UK parliament, with no party holding total control and the Liberal Democrats playing kingmaker, reports said. It would be the first such general election outcome since 1974, and could result in a Labour-Liberal Democrats coalition government, possibly allowing Brown to remain prime minister.
For Clegg, it's been an uneven, winding road into the limelight: Before joining the UK's third-party politics 15 years ago, the 43-year-old Cambridge graduate did stints as a ski instructor, a political philosophy student and a failed novelist. He also worked as a left-wing journalist under the acid-tongued Christopher Hitchens at The Nation.
A pro-market social liberal, Clegg has called his party an alternative to the Labour's complacency and "big government".
He's forged his support by poaching centrist members from both major parties and also by wooing non-voters and those generally disillusioned with politics.
Pushing a centre-left agenda since taking control of the Liberal Democrats in 2007, Clegg has drawn comparisons to US President Barack Obama for positioning himself as a post-partisan politician interested in "change".
But he is no stranger to controversy.
In past interviews, Clegg has openly professed a disbelief in God. He is, however, married to a Catholic woman -- International Law expert and a native of Spain, Miriam González Durántez -- and they are raising their three sons in the Catholic tradition.
He also refuses to say whether he used illicit recreational drugs in the past, which the British press has called a tacit admission.
There are questions too over his arrest as a 16-year-old during a year studying abroad in Munich, Germany. He reportedly set fire to a professor's collection of rare cacti, an incident for which Clegg has apologised, chalking it up to "drunken" stupidity. 
Image: Britain's Liberal Democrat leader Nick Clegg | Photograph: Toby Melville / Reuters