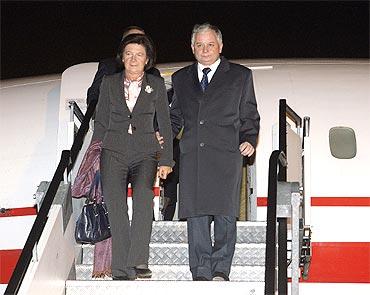 Polish President Lech Kaczynski was killed, along with his wife and 130 others, when a plane carrying them crashed while landing in dense fog in the southwestern region of Smolensk in Russia on Saturday.
The TU-154 Presidential plane crashed at 11 am local time (12.30 am IST), breaking into several pieces nearly 300 metres from the runway at Severny airport after hitting tree tops in the dense fog, Russia's emergencies ministry said.
Kaczynski, 60, was flying with a delegation to take part in the Katyn memorial ceremonies at the site where 22,000 Polish military officers were executed on the orders of Soviet Dictator Joseph Stalin during the Second World War. As many as 132 people, including President Kaczynski and his wife Mana, were killed in the crash, said Vladimr Markin, spokesman of Russia's investigation committee.
"It (the plane) clipped the tops of the trees, crashed down and broke into pieces. There were no survivors," Smolensk Governor Sergei Antufiev told Russia-24 television news network.
According to the Russian Air Space Monitoring Service, the pilot of the plane was advised to land either in Minsk, the capital of Belarus, or Moscow because of bad weather at the airport where it crashed. But the commander of the Presidential plane refused to land elsewhere and the aircraft crashed on its fourth attempt to land in dense fog, it said.
In Warsaw, Polish foreign ministry spokesman Petr Paszkowski confirmed that President Kaczynski was on board the ill-fated Tu-154 aircraft. He said that Deputy Foreign Minister Andrzej Kremer, Army Chief of Staff General Franciszek Gagor and National Bank President Slawomir Skrzypek were also on board the plane.
Russian President Dmitry Medvedev ordered Emergency Situations Minister Sergei Shoigu to personally supervise rescue work in the Smolensk region. He also directed Prime Minister Vladimir Putin to lead the probe into the crash.
Russian TV channels broadcast live footage showing the plane's wreckage scattered over a large area in a forest blanketed with fog, with parts of it still on fire. The crash came three days after Putin and his Polish counterpart, Donald Tusk, jointly attended a memorial for the victims of the massacre at Katyn.
Kaczynski, who became President in December 2005, was the twin brother of Poland's opposition leader and former Prime Minister Jaroslaw Kaczynski. He had planned to seek a second term in presidential elections this fall.
According to the Polish Constitution, Parliament Speaker Bronislaw Komorowski would take over presidential duties now. The President and his wife are survived by a daughter and two granddaughters.
Image: A file photograph of Poland President Lech Kaczynski and his wife Maria | Photograph: Srdjan Zivulovic/Reuters