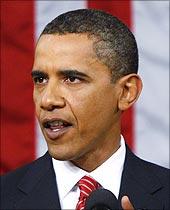 As United States President Barack Obama is about to finalise his new policy on Afghanistan, his envoy to the country has expressed his misgivings about sending more troops to the war-torn nation and raised questions on the capability of Hamid Karzai as head of the state.
The two strongly worded classified cables, sent to Obama last week, were believed to have been discussed by Obama with his key national security and defence aides at the White House on Wednesday.
US ambassador to Afghanistan Karl Eikenberry's cables raised deep concerns about the viability of the new Karzai government, with officials saying that this may lead to Obama not accepting any of the options before him in the current form.
"The options before the President could be asked to be amended by his war council," the New York Times reported, saying that the new proposals could hinge around how and when US troops turned over responsibility to Afghan authorities.
The White House says Obama has not yet made a final choice, though military and Pentagon officials have said he appears near to approving a smaller increase, than his war commander General Stanley McChrystal wants at the outset.
In view of the latest cable from Eikenberry and the rapidly changing development in the region, White House officials said the new Af-Pak policy could be announced after Obama returns from his Asia trip on November 19, and may even be pushed to December.
"The President believes that we need to make clear to the Afghan government that our commitment is not open-ended," the White House said in a statement after Obama concluded his meeting with his close aides.
"After years of substantial investments by the American people, governance in Afghanistan must improve in a reasonable period of time," the White House said, sending signals to the Karzai administration that the time has come for it to show immediate results.
"Eikenberry's last-minute interventions have highlighted the nagging undercurrent of the policy discussion: the US dependence on a partnership with a Karzai government whose incompetence and corruption is a universal concern within the administration," the Washington Post said.
"In these and other communications with Washington, Eikenberry has expressed deep reservations about Karzai's erratic behavior and corruption within his government, said US officials familiar with the cables," the daily said.
The Los Angeles Times termed it as a dissent.
"In an unexpected dissent at a critical moment, the US ambassador to Afghanistan has warned in classified cables against any further build-up of American forces in the country," it quoted senior US officials as saying.