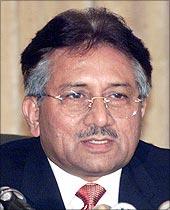 The Pakistan People's Party-led government is considering a proposal to seek Interpol's Red Corner notice against ex-military ruler Pervez Musharraf, in a bid to bring him back from abroad to face treason charges, days after he called party chief and President Asif Ali Zardari 'a criminal and a fraud'.
Musharraf's remarks about Zardari, made in an interview to New Yorker magazine, have virtually united the PPP and main opposition Pakistan Muslim League - Nawaz on the issue of dealing with the former President, who has been living outside Pakistan since April.
"The government is seriously considering a proposal to ask Interpol to issue a (Red Corner notice for) Musharraf, so that he can be brought back here and tried for violating Article 6 of the Constitution (which relates to treason)," said PPP leader Raja Riaz, who is a senior minister in the provincial government of Punjab. PPP leaders had so far refrained from backing the PML-N's demand for Musharraf to be brought back to Pakistan to face trial on charges of treason.
Premier Yousuf Raza Gilani had even hinted that it might not be possible to put Musharraf on trial, after main opposition PML-N stepped up demands for action against him. However, PPP leaders changed their stance after Musharraf harshly criticised Zardari.
During the interview, Musharraf said, "He (Zardari will) do anything to save himself. He's not a patriot and he's got no love for Pakistan. He's a third-rater." Musharraf also described Zardari as 'a criminal and a fraud'.
The PPP will hold protests against Musharraf across the country and will do everything possible to bring the former dictator back to Pakistan to face trial, party leaders said.
"In fact, Musharraf has invited his own destruction by maligning President Zardari and he will have to face the consequences. As long as even one PPP worker is alive, no one can harm Zardari," Riaz said.
Interestingly, the PPP's change of heart has come at a time when PML-N chief Nawaz Sharif and other senior party leaders have stopped pressing for Musharraf's trial, reportedly on the advice of the Saudi government.
Saudi King Abdullah bin Abdul Aziz recently sent his special plane to London to fly Musharraf to Jeddah for a meeting. He then held a meeting with Sharif and reportedly asked him not to raise the issue of Musharraf's trial. PML-N leaders said their party will not join protests against Musharraf being organised by the PPP but will support the move.
"The PPP-led government should take some concrete steps to bring the dictator back from abroad and arrest him for violating Article 6 of the Constitution," PML-N parliamentarian Pervaiz Rashid said.
Another PPP leader said Musharraf had 'lost his wits' and attacked Zardari after a UN commission probing the assassination of former premier Benazir Bhutto said it wanted to question the former military ruler.
"Such tactics will not save the dictator and the nation will never spare him for causing irreparable damage to the country," the leader said.
© Copyright 2023 PTI. All rights reserved. Republication or redistribution of PTI content, including by framing or similar means, is expressly prohibited without the prior written consent.