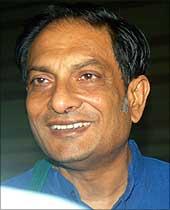 Even after spending more than two years in prison on charges of being a Naxal supporter under the draconian Chhatisgarh Special Public Security Act, Dr Binayak Sen's enthusiasm for speaking for the rights and the wellbeing of the tribals in Chhattisgarh has not diminished one bit.
Out on bail since May 25, 2009 -- he was arrested in May 2007 -- Dr Sen was in Mumbai recently to speak at a seminar organised by the Tata Institute of Social Sciences on December 14. He spoke to Prasanna D Zore on a range of issues including his health, the ground situation in Chhattisgarh and threat to his life from "non-State actors".
"Please don't write anything about my itinerary," he asked this correspondent after discussing the same with him, for fear that it might alert those who are out there to eliminate him.
Dr Sen, first tell us about your health.
I feel good now. My friends at Vellore (in Tamil Nadu) took good care of me and I am feeling fine now. I'm on medication but I don't need any surgery for my heart condition.
Can you tell us what has changed in Chhattisgarh between 2007 and 2009, the time you were incarcerated?
I think the situation there is much more tense now than it was earlier. The tension level today has increased manifold because of the presence of large number of police personnel in Chhattisgarh. Hence the need for concerted efforts to appeal for peace and justice has also increased.
What makes you feel so? What's the ground situation there now?
There is a huge influx of armed police personnel not only in the so-called Naxalite areas but also across the state. I presume there is a variety of them including the Central Reserve Police Force, the CoBRAs (the elite anti-Naxal force, Commando Battalion for Resolute Action), and also extra-judicial forces like the Salwa Judum.
The fact is there are killings, beheadings, rape and murder happening all the time in the state and the government is not doing anything about it. Such kind of violence needs to be condemned and treated as criminal acts but the government has not taken any action to prosecute the perpetrators of such horrendous crimes.
In the given circumstances as they prevail in Chhattisgarh today, do social activists like you feel safe?
In my own case I've been told by a couple of senior police officers I know who work in other states that there is a definite risk to my life in the state. And in general the level of violence has gone up tremendously. So people who have been raising their voice against these issues (encounter killings and cases of forcible land grabbing by the Salwa Judum) may not be feeling safe.
Who poses a definite risk to your life? Is it the Salwa Judum or the government?
I think the risk is mainly from non-State actors. While I don't want to get into these details I can only say that the overall security situation in the state is not good.
Can we call this personal vendetta against all those people in Chhattisgarh who speak against the Salwa Judum? Even Gandhian activist Himanshu Kumar's Vanvasi Chetna Ashram was razed under some pretext or the other.
I don't know if it's personal vendetta or not. I don't know what is personal or what is political. But certainly Raman Singh and his ruling party in Chhattisgarh have gone out of their way to build false cases against all those people who have stood against the atrocities of Salwa Judum.
I think the fact that people like me have raised their opposition to a large number of activities -- which we think are against the wider interest of the deprived sections of Chhattisgarh -- undertaken by the state government is what is prompting action against us. We are trying to expose the false police encounters, large-scale land grabbing undertaken by the Salwa Judum from the tribal communities, and this is what is forcing the state government to respond in the best way that they know.
How would you describe the plight of the tribals of Chhattisgarh?
Large proportions of tribal populations are severely malnourished there. Though the government claims that they have been distributing rice, objective data shows that 33 per cent of the tribals have a body mass index, BMI, of 18.5 (an average person who is 5'6" tall and weighs 65 kg has a BMI of 23), that a large section of the tribals there are malnourished. This is just one indicator of the kind of horrendous policies affecting the lives of tribals in Chhattisgarh.
What inspires you to speak for the rights of the tribals and the deprived in Chhattisgarh despite there being a threat to your life?
I think the people who are living under those circumstances are showing a higher degree of courage. The wish of the people who want to be associated with the resistance that the poor there are showing in living their ordinary existence is what inspires a lot of people to speak out for them.
What would be your appeal to all the stakeholders in the region: the tribals, the state government and the Naxalites?
I think we all should appeal for peace and justice. The common people, the civil society should appeal for peace and justice and ask for implementation of the Directive Principles of State Policy that would bring in a greater degree of equality.
How optimistic would you be that your appeal will be heeded by everybody?
It's not my appeal. I am saying that the civil society should come together and make such an appeal. My appeal alone will have no significance but if I can enlist the support of a wider section of Indian people then perhaps there could be hope for the region.
Did you at any point during your imprisonment lose hope that you will ever come out of jail alive?
All the inmates in the jail with whom I interacted treated me very kindly. Everybody was kind to me and they gave me the courage to face life as it was inside the prison.
Were you subjected to physical or mental torture?
There was no physical torture at all but watching the way the inmates live and the conditions in which they lead their lives inside a prison was a very sad experience for me.
You are branded as a Naxalite by the state government. How do you respond to that?
I can say for sure that I am not a member of the Communist Party of India-Maoist. Apart from that the trial is in progress and I will await the court's decision.
Photograph: Prasanna D Zore