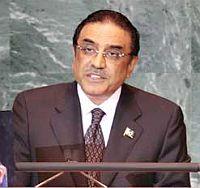 Pakistan President Asif Ali Zardari is unfazed by the Supreme Court's judgment declaring the National Reconciliation Ordinance as 'unconstitutional', and has vowed to face the challenges.
Talking to media persons for the first time following the apex court's verdict, which may force him to step down, Zardari said he respects the judiciary and that his party, the Pakistan People's Party, would also abide by the decision of the court.
"The PPP believes in reconciliation. The government accepts the court and its verdict on the NRO and the PPP leadership is not scared of the verdict," The Dawn quoted Zardari, as saying.
Comparing the current scenario with the regime of Benazir Bhutto and Zulfikar Ali Bhutto, Zardari said he is not afraid from facing the challenges.
"We will tackle the challenges with courage. We have witnessed the NRO-like crisis in the past and we are also ready to cope with today's situation, but we will not allow anyone to derail democracy in the country," he said.
Describing terrorism and extremism as the biggest threats facing the country, the president said that the people of Pakistan are fully supporting the military operations being carried against the militants, and added that his government is taking all steps to address people's grievances.
"The armed forces are combating insurgency with courage and dedication and the nation stands shoulder to shoulder with security forces. We have introduced the Balochistan package to redress grievances of the Baloch people and mega development schemes are under way in Sindh," he said.