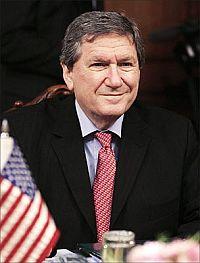 "Read my lips," said Richard Holbrooke, special US representative to Afghanistan and Pakistan, "I am not working on that problem," when asked by a Pakistani journalist if the Obama administration was 'serious to appoint any adviser to resolve this issue,' since as the latter contended, "We all know that deep down, there is no solution of Afghanistan and the South Asia problem, without resolving the Kashmir issue that is controlled by Indian government."
But Holbrooke, at an appearance at the Council on Foreign Relations in Washington at an event titled 'US Policy in Afghanistan: A Conversation with Richard Holbrooke,' declared, "Let me be very clear. I am not working on that problem."
He asserted, "I don't even mention the problem I am not working on. That's a game when I go to India—and I go to India frequently and I look forward to going back soon because we keep the Indians very closely informed of our effort because India is hugely important factor here."
"But, whenever that question comes up, your Indian journalistic colleagues try to get me to mention the K word and I won't do it because everybody keeps saying that either I am secretly working on it, or I ought to be working on it," Holbrooke said.
However, he reiterated, "Well, they are wrong on both counts. I am not working on that problem. The President addressed it very clearly as did the Secretary of State in recent interviews and my job is to work on the civilian side of Afghanistan and Pakistan."
Holbrooke acknowledged that 'we all know how important that issue is -- everyone knows it. And, it's a long tortured history. But, it's not what I do and it's not what the countries in the region expect me to do.'
"And, I understand why you ask it, but that's the simple fact," he added.
But the reason the Kashmir issue continues to keep cropping up and why hopes spring eternal in the pro-Pakistan lobby in Washington at the Obama administration may have some sort of a stealth trouble-shooter or engage in private diplomacy to coax India to resolve this Kashmir issue because of the thinking in Pentagon as well as some administrations circles that is the Kashmir imbroglio is resolved, terrorism in the region will cease.
The most recent manifestation of this was last week, when Admiral Michael Mullen, chairman of the Joint Chiefs of Staff, said such an outcome is imperative even while he lauded India's withdrawal of some of the security forces in the Valley.
During a briefing on US National Security Update at the Foreign Press Center in Washington, Mullen in appreciating Pakistan's security concerns including on its eastern border with India and the rising militancy domestically, especially in the Federally Administered Tribal Areas, said, "In the long run, the resolution of the border in the east in Kashmir is a very important outcome."
"Obviously, that is a principal concern to India and Pakistan," he argued, "but it is of concern to many others in terms of the stability in the region, and that's a key part of what needs to happen in the future."
When informed of the recent announcement by the Indian government of the reduction of troops from Jammu and Kashmir, Mullen said, "The adjustments that the Indians have proposed, and to the degree that they've been executed -- and I'm just not -- I'm not current on the level of execution right now, but certainly, executing those changes is a very positive step."
"The leadership -- the political leadership, the diplomatic leadership, the military leadership -- in both countries and in the region," he said, "needs to continue to encourage and also to respond to that."
Mullen reiterated, "I really do believe that de-tensioning that border is absolutely critical to the long-term stability in that region, and it's going to take outreach on the part of both countries. So, I'm very positively moved by the steps that Prime Minister (Manmohan) Singh's government has taken with respect to this."
The previous week, testifying before the Senate Foreign Relations and House Foreign Affairs Committees respectively, Mullen made a case for India and Pakistan to return to the negotiating table, although he did not make a case for the resolution of the Kashmir dispute as a panacea for stability in the region as he did last week.
When he was asked at the time is there was any way Pakistan could be persuaded to shed its India-focus, the top Pentagon official said, "India is a big player in that region as well. I think all of us -- international players, and particular regional players -- have to take steps to stabilise. The relationship between Pakistan and India is critical. Leadership there must, I think, step forward to stabilise that border more than anything else. I think that would be a great step forward in stabilising the region."
Veteran foreign policy analyst, Ashley J Tellis, considered one of the foremost strategic experts in the US, has cautioned against such perceptions as articulated by Mullen that 'if the US can somehow nudge an Indo-Pakistani agreement or secure some concession from India, we would make the Pakistanis more cooperative in combating terrorism.'
Tellis, formerly senior adviser to the George W Bush administration and currently a senior associate at the Carnegie Endowment for International Peace said, "This is a very common view in parts of the US military, the executive branch, and the wider non-governmental policy community," and that there is a 'growing feeling' that Washington 'needs to have some kind of role in resolving the conflict,' in Kashmir.
"So, one must expect that as the mission in Afghanistan keeps going south, the clamour to do something regarding Kashmir will only increase, because people in Washington will start looking for solutions anywhere that offer even the faintest chance of increasing our success in Afghanistan," he predicted.
Tellis acknowledged, "Obviously, this is neuralgic from the point of view of New Delhi. So again, this is going to be an issue that has to be managed and in my view, it is best done privately and in a direct way."
Image: Special US Representative to Afghanistan and Pakistan Richard Holbrooke