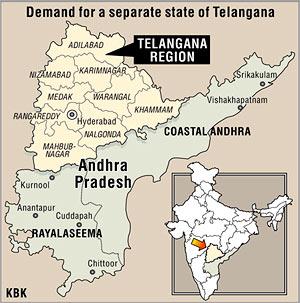 The five-decade-long agitation for a separate Telangana state may be bearing fruit with the announcement on Wednesday night by Union Home Minister P Chidambaram that the process for forming the new state would begin.
Dr K Jayashankar, former vice-chancellor of Kakatiya University, Warangal, has been in the thick of the agitation for several years now. He has written several articles and books on why Telangana is important. Fondly known as the father (pita maha) of the movement, Dr Jayashankar says that the government has made a commitment and he hoped they would stick to it.
In this interview with rediff.com's Vicky Nanjappa, Dr Jayashankar explains why it is important that Hyderabad becomes the capital of the new state and why the demand to make it a Union Territory should be dropped immediately.
What are your first reactions to the decision of the Union government?
Obviously I am happy. It is a long-standing dream and it seems to be coming true today. I would not call it the end of the matter, but it is the beginning. The process has commenced and there is still some time to go before it becomes a complete reality.
At any point do you feel that the Union government may backtrack on its decision? Do you think this was a tactic to ease the tension prevailing in the state?
It is clear that they have made a commitment. The process is underway and we trust it. This has been a long struggle and we hope that the government will not backtrack. When the home minister of the country makes an announcement, we trust it.
What if the government goes back on its decision? The ball is now in the court of the AP government which does not seem too enthusiastic about the formation of Telangana.
As I said earlier, we trust the decision of the Union government. If at any point of time, they backtrack we will not take it lying down. We have plans to ensure that the government does not backtrack.
There have been violent protests in the past. What makes this one unique and why do you think the government gave in this time?
Yes, there has been a long history to this movement. Moreover if you notice this time around the movement was more people based. The political parties had a very small role to play. There were students and the common man who had come out in the streets and made the demand. I would call this the final struggle and the unique thing was that everyone was in the movement this time. This made the difference. It was in this backdrop that the government decided to take action and give in to our demands.
You have written an extensive paper on this issue. What according to you are the main grievances of the people of Telangana?
Irrigation is one of the major grievances. A raw deal was meted out to the region regarding the allocation and utilisation of river waters. Telangana is encircled by two major rivers of south India -- Krishna and Godavari. In Andhra Pradesh, 68.5 percent of the catchment area of Krishna and 69 percent catchment area of Godavari are in the Telangana region. In addition, most of the tributaries of these rivers traverse its length and breadth. If the waters of these rivers are properly utilised, almost every acre of cultivable land available in Telangana could be provided with assured irrigation facilities and every village could be provided with assured drinking water facilities.
But Telangana has been denied its rightful share in the river waters by successive governments over the last four and a half decades, irrespective of the political parties and leaders in power.
Education is another issue. At the time of formation of Andhra Pradesh it was assured that disparities in the levels of development in different regions of the state, including in education, would be removed in five to ten years time. But even after 47 years, the literacy rate in Telangana continues to be lowest in the state.
Industries is another aspect. No major industry worth its name has been setup in any of the districts of Telangana region as compared to the establishment of several industries in Visakhapatnam, Vijayawada, Kakinada, Nellore, Tirupati, and Cuddapah. Quite a few major industries established in the Telangana region during the period of much maligned Nizam are being closed one after the other by successive governments.
Also there are about 15 lakh jobs in the government and government-funded offices and establishments in the state. Based on the size of population at least 40 percent of these jobs (6 lakh), should have gone to the job seekers from Telangana. But the total number of jobs now occupied by them is less than 3 lakh. There are more than 5,000 employees in the state's secretariat. Out of them not even 10 percent belong to the Telangana region. There are more than 130 posts of heads of departments but only 7 or 8 are from Telangana.
What happens to Hyderabad which is the bone of contention? Are you willing to give up Hyderabad and form Telangana without it?
Why should we give up Hyderabad? Hyderabad is a part of Telangana and I think that there should be no debate whatsoever. I would like to ask as to why in the first place does anyone even bother debating this aspect? Even if you look at it geographically, the demand by the people of Andhra and Rayalseema is ridiculous. They have no access to Hyderabad.  It is an integral part of Telangana and should remain that way.
What if you are asked to make a compromise on Hyderabad?
There is no question of compromise on this issue.
Why is Hyderabad becoming such a debating point?
This is entirely created. Everyone knows that once Telangana is formed, it would have Hyderabad as its capital. A lot of people in power want to retain Hyderabad in Andhra Pradesh due to a comfort zone that they are in. Most of these people are involved with realtors and they will benefit.
There are huge business interests in Hyderabad. What about those persons? What do they do?
Who is preventing business people from coming into Hyderabad or who is forcing them to leave? It will continue the way it is and people can do business freely. Yes there are some businessmen who are opposing Hyderabad going away from Andhra Pradesh. I want to ask these businessmen one question. Have you come here to do business or rule over us? We are not asking them to leave the city. They are like tenants and we will take care of them.
What do you have to say about the split in the Congress over this issue. Nearly 50 MLAs have already resigned?
These MLAs have always opposed the formation of the state for their vested interests. If they are resigning and the party is splitting then it is their headache. These are the persons who have ensured the delay and Telangana had always faced a roadblock due to resistance from other regions. It is time they realise the misery of the people and give us our state.
What will happen if the government refuses to part with Hyderabad?
There will be civil war.