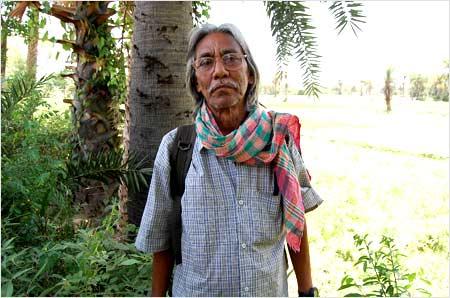 Security forces on Thursday, June 18, moved into the restive Lalgarh region in West Bengal's Midnapore district to end the three-day siege led by the Communist Party of India (Maoist).
The Communist Party of India (Maoist) went on a rampage targeting Communist Party of India-Marxist cadres and leaders, destroying their homes and party offices and setting up barricades to block the police and Central Reserve Police Force's entry.
As the country awaits a solution to the Lalgarh crisis, rediff.com's Indrani Roy Mitra caught up with Gour Chakraborty, the CPI (Maoist)'s spokesman, late on Thursday night.
The party came into being in September 2004 through the merger of the Communist Party of India (Marxist-Leninist), the People's War Group and the Maoist Communist Centre of India. The merger was announced on October 14 the same year.
What led to the Lalgarh violence?
Every act of violence has its roots in torture and repression. Be it the French Revolution, Russian Revolution, Santhal movement or Tebhaga movement, all uprisings resulted from popular discontent.
Tribals of Lalgarh have suffered for years. They have been tortured and insulted by the ruling Left Front and the police.
What is happening at Lalgarh is nothing but an explosion of tribals' pent-up grievances.
Lalgarh, if you remember, has been on the boil since last November when a landmine exploded near Bhadutala on the route of the convoy of West Bengal Chief Minister Buddhadeb Bhattacharjee and then central ministers Ram Vilas Paswan and Jiten Prasada.
The ministers were returning after laying the foundation of a steel plant in Salboni.
Soon after, the police launched a massive combing operation and arrested local school students and harassed tribal women.
In protest, angry tribals in and around Lalgarh dug up roads, virtually cutting off Lalgarh from the rest of Midnapore.
They also demanded a public apology from the police for the alleged excesses against them.
The area has witnessed continuous clashes since then.
Hinting at a state within a state, tribal leader Chhatradhar Mahato of the People's Committee Against Police Atrocities said on Thursday his organisation could build infrastructure in just eight months in Lalgarh? Is it true?
Absolutely. Though the PCAPA is an infant organisation, it has a mission to better the lives of the tribals.
The PCAPA is fighting for the tribals's cause, it is seeking justice for them.
Like the PCAPA, we too are against violence. But what is happening in Lalgarh is the outburst of the people who have been suffering for the last 32 years.
It is being alleged that you are using women and children as shields.
This is utter nonsense. We are not using women and children as shields. Hundreds and thousands of tribal women have come out in the open spontaneously, shouting slogans against the police and the administration.
They are walking in tandem with us.
How do you justify the loss of so many innocent lives? Why are you killing policemen? They are just doing their jobs.
We are orchestrating a revolution at Lalgarh. Can you cite an instance where a revolution took place without bloodshed? Our motive is not to take innocent lives.
We just want to resist coercion and police atrocities. To counter force, we have to combat and resort to violence.
We really feel sorry for those who get martyred in the process, but we can't help it.
The security forces are on their way to free Lalgarh. Are you equipped enough to resist them?
One should not underestimate us. We know our strength and weaknesses. We are also aware how strong our 'enemies' are.
You mean your cache of arms and ammunition is huge enough.
I am not supposed to talk about it. But do remember, we are strong enough to put up a brave fight.
The CPI-M is alleging that the Trinamool Congress is giving you tacit approval. Is it true?
No, not at all. The Trinamool Congress did seek our support in its fight against the CPI-M in Nandigram.
But (Trinamool chief) Mamata Banerjee had only wanted to use Nandigram as a tool to win elections. That was her ulterior motive.
Ms Banerjee recently stated that your party is an offshoot of the Communist Party of India-Marxist.
As I told you, Mamata Banerjee used Nandigram as an election plank. She used it as a pawn for her party to win Lok Sabha seats.
She claims to be against special economic zones. Then why didn't she stand by us in our movement against the Jindal group's planned SEZ in Salboni area?
Also, her demand to the Tatas to free 400 acres of land lacked clarity. She should have demanded the entire 1,000 acres.
Therefore, we refuse to give any importance to what she says about us.
As we all know, West Bengal saw a huge political change in the recent Lok Sabha polls. The change occurred through a democratic process. Why don't you tread the same path to bring about the so-called transformation?
The Left Front government has been emerging winner in every election for the last three decades. What has it done for the state of West Bengal? What has it done for the tribals of Lalgarh? Nothing.
Which democracy are you talking about?
In a recent press conference, one of your colleagues, Bikash, said that the people of Lalgarh want West Bengal Chief Minister Buddhadeb Bhattacharjee dead. The landmine blast that narrowly missed the chief minister's car last November was an attempt on his life. Would you like to comment on it?
On August 14, 2004, Dhananjoy Chatterjee, a rapist and a murderer, was hanged to death in Kolkata.
The incident brought to an end Chatterjee's 14-year-long legal battle to escape the noose, as human rights groups held protests outside the Alipore Central Jail against the capital punishment.
Buddhadeb Bhattacharjee and his wife Meera had then reasoned why a rapist and a murderer like Chatterjee should be hanged.
Bhattacharjee's government has killed hundreds of people, raped countless women during its tenure.
Therefore, may I ask why should he escape capital punishment?
You regret that your party missed its target in November?
Of course. Our party wanted to kill Bhattacharjee. It failed in its mission. We have every reason to regret. Think of the French Revolution, it was popular force that had brought down a corrupt monarchy. The kings and the queens were guillotined.
History tells us that at times, the crooked and the greedy need to be eliminated.
You are the publicist of your party. Your task is to convey the CPI (Maoist)'s messages to the people. Who are your colleagues who actually carry out these attacks?
The attacks that we plan are carried out by People's Guerilla Army. PGA members act clandestinely. They move in the dark of the night and launch surprise attacks on our enemies.
Once PGA members's skills reach the optimum level, their group is rechristened the People's Liberation Army and is considered empowered enough to take on the enemies head on.
Can the Lalgarh incident be compared to the Naxalite movement?
It will be improper to compare the two. The Naxalite movement had a different context. What is happening in Lalgarh is the tribals' way of resisting police atrocities.
It's their method of saying, 'Enough is enough'. Those involved with the Naxalite movement had a different motive altogether.
Your party has called a bandh in Bihar, Orissa, Jharkhand, West Bengal, Chattisgarh on June 22 and 23. Could you clearly spell out your party's demands?
We want the entire Lalgarh to be a liberated zone for the tribals. We want them to have a democracy of their own, a democracy that will be guided by a new and free economy.
We have three-point demands: Central and state forces must be withdrawn from the entitre jangalmahal; the state government must officially apologise to the tribals for its torture and misbehaviour and it should immediately put an end to police atrocities.
Violence in Lalgarh will continue unless our demands are met.