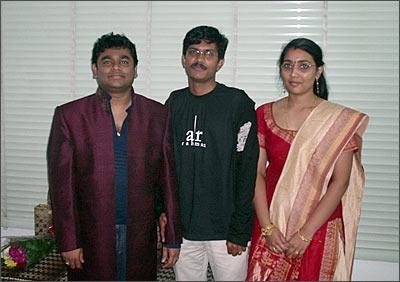 We asked readers if they had ever met A R Rahman, and we got quite a response.
Rajith Ramnivas writes in to say how someone's loss became his gain. He shares his memories:
I am such a crazy fan of Rahman Sir that even my wife jokingly says that I love his music more than her! She loves his music a lot too. I was in Standard 8 when Roja was released. I loved those songs and one of my biggest aims was to meet Rahman Sir. I was even ready to get a job as his driver!
Anyway, my chance came during the Sharjah concert last April. Four days before the concert, there was a contest on a radio station, Meet and Greet A R Rahman. Unfortunately, I didn't win.
So I bought VIP tickets for the concert.
On the day of the concert, I got a call from the radio station asking me to go to the concert venue at 2pm. One of the winners could not attend because of a change in timings, and my name was selected instead.
I just couldn't believe it! I reached the venue with my wife at 1:45pm. But there was a change in the timings again, so we would get to meet him after the concert.
The concert started on time, and I really enjoyed it. When it was over, we were asked to go backstage to meet him. There were a lot of people so we couldn't reach him. Then someone told me that Rahman Sir was asking for me! We went to his room. His manager let us in. 
The room was big with some sofas. Sitting on one of them was the great man. He was drinking water from a small bottle. He saw me and asked me to come in.
I couldn't control myself. I fell down at his feet, held his legs and cried. I told him that I loved him very much. He comforted me by saying, ' I know, I know.' 
He helped me to my feet and I hugged him. I got tongue-tied. I couldn't ask him anything. He asked me where I was working, how long I've been married and my wife's name. I couldn't reply at all because I was not hearing anything. I was in another world. My wife prompted me and then I started answering. I was in a dream.
After meeting him, I realised that he has divine powers. He is very humble and simple.
Keep those memories coming in. The world would love to hear about Rahman.