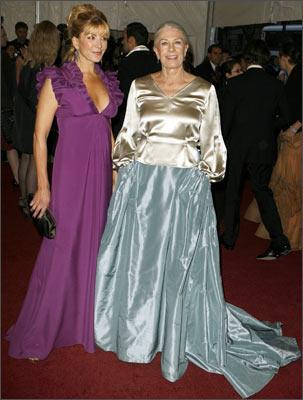 Late Hollywood actress Natasha Richardson, who died after a skiing accident, has left a shattered family behind her.
Her husband Liam Neeson and mother Vanessa Redgrave were left grief-stricken, when she was declared dead.
While Neeson had tearful eyes and a thwarted face, Vanessa fainted in shock after her death at New York's Lenox Hill Hospital.
Natasha's 72-year-old mother was singing the song Edelweiss to the The Charge of The Light Brigade actress in her last moments.
However, Vanessa collapsed in shock as soon as the doctors turned off Natasha's life support. 
 
'As the life support was switched off, the family asked to be alone with Natasha. But the moment was overwhelming for Vanessa, who fainted briefly and nurses were asked to help,' the Sun quoted a source as saying.
'Vanessa recovered enough to be supported by her family and Neeson, who was clearly overwhelmed,' the source added.
While a thwarted Liam acknowledged the crowd outside his New York apartment, others also paid their tribute to late Natasha.
 
The lights at Broadway were dimmed in a bid to pay tribute to Late Natasha, who was the daughter of Oscar-winning director Tony Richardson, grand-daughter of Michael Redgrave and Rachel Kempson, niece of Corin and Lynn Redgrave and sister of Joely Richardson.
Natasha had injured herself while taking a skiing lesson on a beginners' slope at the Mont Tremblant Resort in Quebec.
An autopsy report revealed that her death was caused by epidural haematoma -- bleeding between the skull and the brain, due to her blunt fall.
Lindsay Lohan and others pay last respects
Hollywood actress Lindsay Lohan expressed her sadness over the death of her co-star in The Parent Trap.
Lohan fondly remembered Natasha, who played her mother in the flick, and recalled the motherly love she showered on her during the filming of the flick.
'She was a wonderful woman and actress. She treated me like I was her own,' the Sun quoted Lohan as saying.
Comedienne Joan Rivers, 75, also recalled Natasha as an "amazing and darling" and fondly remembered her love for her husband Liam Neeson, who totally doted on her.
"She and husband Liam were totally happy, totally devoted to each other. That is what kills me. It just shouldn't happen," Joan said.
"He doted on what she said, she doted on him -- it was perfect," Joan added.
Natasha's fellow actresses also paid their tribute to the Tony award-winning actress.
"I am sending out prayers for Natasha and her family -- a real reminder of how precious life is and how quickly it can be gone," Demi Moore stated on her blog.
Film director Michael Winner, 73, said: "Whenever you met her, it was like a joy. It's a twinkle and a sparkle that has left the world."
Mia Farrow, 64, said: "Natasha is irreplaceable. I cannot think of anyone kinder, more generous, thoughtful, smarter or more fun."
Media personality Howard Stern, a neighbor of Liam and Natasha in New York, revealed that she was a very affectionate woman.
"She was one of the nicest women you would ever meet," Howard said.
Acclaimed actor Ralph Fiennes said: "For everyone who knew her, Natasha's death is a devastating loss. She was unique."
Former Northern Ireland Minister Rev Ian Paisley, 82, said: "To Liam and his boys, I express my sadness for the loss of their wife and mother."
In the picture: Vanessa Redgrave (right) and her daughter Natasha arrive at the Metropolitan Museum of Art Costume Institute Benefit Gala "Poiret: King Of Fashion" in New York, 2007.
Text: ANI | Photograph: Lucas Jackson/Reuters