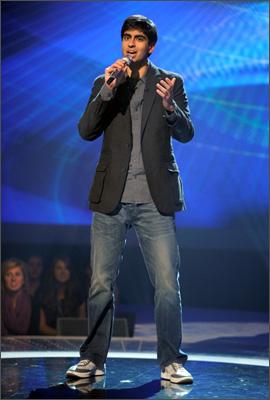 Ladies and Gentlemen, Anoop Dogg's in the house!
Yes, that's right. Anoop Desai, a 22-year-old North Carolina native of Indian heritage, may very well be the next American Idol.
Just last week, when it looked as if Anoop was to be permanently eliminated from Idol's Season 8, he was granted a pardon, and joined the final 11 contestants.
Of course, this isn't all exactly new to Anoop. He's been crooning songs from the University of North Carolina's a capella group -- the Clef Hangers -- for years. As a senior, he was the group's president, and his inspired solo performances of Keane's She Has No Time and Brian McKnight's The Only One For Me earned his praise from the Best of College A Capella 2007.
Desai, whose seductively smooth voice is perfect for R&B songs, is the second Indian American ever to make it this far on American Idol, after Sanjaya Malakar achieved the feat in Season 6.
Plus, for all his success on-stage, he equals it off-stage as well. Put simply, Anoop has become a phenomenon. Anoop Dogg (or 'Noop Dogg) is the name he's now known by, a play on famous hip-hop artist Snoop Dogg. And just check out this website, which has roughly a dozen different Anoop-inspired t-shirts for sale!
And even if he doesn't win it all, he's got a contingency plan. Anoop's currently a graduate student in folklore at the University of North Carolina.
Talk about multi-talented!