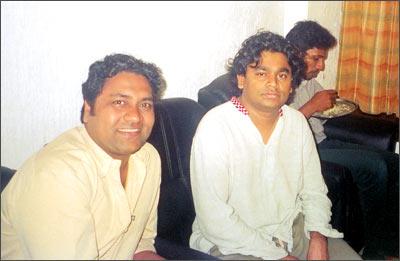 We asked readers if they had ever met A R Rahman, and we got quite a response.
Uday Mane writes in to say how he chased after Rahman to get him to sign his autograph book. He shares his memories:
My chase for A R Rahman started in 1993. I finally got to meet him in 2003 and then again in 2005 and 2006. 
My friend and I met him at Audeus studio where he was recording. He was in a discussion with Rakeysh Mehra for Rang De Basanti. Anyway, I met him and told him how I followed him to Mumbai, Chennai, New York and Sydney just so he could sign my autograph book.
After my meeting with him, we posed for a picture.
Keep those memories coming in. The world would love to hear about Rahman.