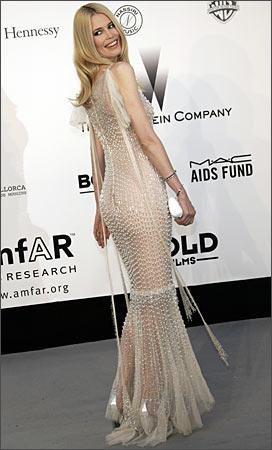 Supermodel Claudia Schiffer certainly has a taste for grandeur and to store the valuable designer goods accumulated over her modelling carer of two decades, she has converted a helicopter hangar into a wardrobe.
The German supermodel has converted the huge warehouse beside her 5million pound home in Suffolk into a climate controlled closet for her expensive couture. The store is climate-controlled to preserve the fabrics and has separate closets for clothes by different designers.
The 38-year-old model had to create the the enormous wardrobe when her husband, film director Matthew Vaughn, asked her to clear-out the excessive clothes from their home. But Schiffer did not want to give away anything as she wants to pass on the collection to her four-year-old daughter Clementine, reported Daily Mail online.
'I've kept all my clothes. I have a hangar that is normally made for helicopters and I've got all my clothes in there. The heli-hangar was Matthew's idea. I have so many closets of Chanel in there, it's like a Chanel boutique,' said Schiffer.
Amidst the mind boggling selection of coveted brands, there is a special space reserved for the Italian-lace wedding dress gifted to her by legendary designer Valentino when she married Vaughn.
Text: ANI | Photograph: Yves Herman/Reuters