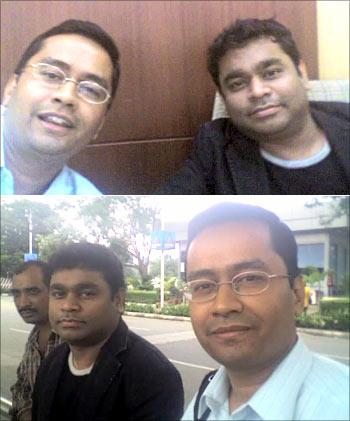 We asked readers if they had ever met Oscar winning composer A R Rahman, and we got quite a response.
Arvind Narayanan writes in to say that he ran into Rahman twice in a day. He shares his memories:
I met A R Rahman twice at the Mumbai airport last September.
While I landed in Mumbai in the morning, I saw a crowd at the car pickup area. When I got closer, I realised that Rahman was being mobbed for autographs.
I waited my turn and even though I was one of the last in the queue, he was gracious enough to sign an autograph and pose for a photograph with me.
I wanted to talk to him but held back as he was looking hassled. Plus, he was busy speaking and texting on his mobile.
Later, when I went to the airline lounge, I ran into Rahman again. He was sitting all alone, waiting for a flight to Chennai. I sat next to him and spoke for about 10 minutes. He was very polite and humble and answered my questions patiently. I would have continued talking but there were a few more fans who wanted to talk to him so I bid him goodbye.
Looking back, I realised that he had no airs at all. He was such a nice gentleman. It was a dream come true for me.
Keep those memories coming in. The world would love to hear about Rahman.