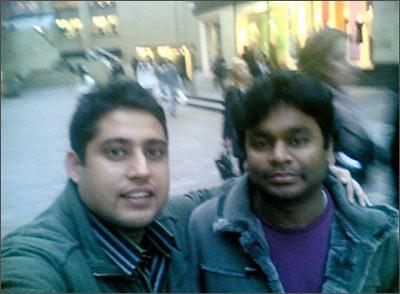 We asked readers if they had ever met Oscar winning composer A R Rahman, and we got quite a response.
Nitin Khera writes in to say that he met Rahman in Glasgow. He shares his memories:
I was studying in Glasgow, Scotland, when I ran into A R Rahman -- he was coming out of (shopping mall) Buchanan Galleries, and looking for a taxi to take him to his friend's place.
I booked a taxi for him. We had coffee at Cafe Nero while waiting for the taxi and talked about a lot of things.
He was very cool and relaxed, and even allowed me to click this picture.
Keep those memories coming in. The world would love to hear about Rahman.