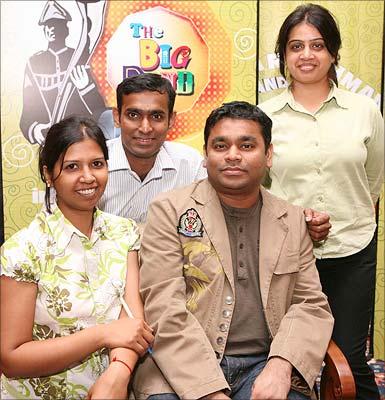 We asked readers if they had ever met Oscar winning composer A R Rahman, and we got quite a response.
Shyam Shivadas writes in to say that he met Rahman during a reality show a few months ago. He shares his memories:
I was fortunate to meet A R Rahman during the launch of a band hunt reality show -- The Big Band Hunt -- held in Delhi a couple of months back. Rahman was conducting the reality show in association with Phat Phish across seven countries. I was coordinating the media interviews at the event and had to occasionally approach him to inform him about the schedule and mode of interviews.
He was very down-to-earth with no airs of being a maestro in the field.
He was in Delhi only for a few hours, and so he requested me to rush up with interviews. Very soft-spoken with a soft and gentle smile, he obliged whoever approached him for an autograph or photograph. He made me comfortable enough to put my hand across his shoulders for a snap with my colleagues Deepika and Garima.
I often interact with stars in my profession but not someone like him. He is the best.
Keep those memories coming in. The world would love to hear about Rahman.