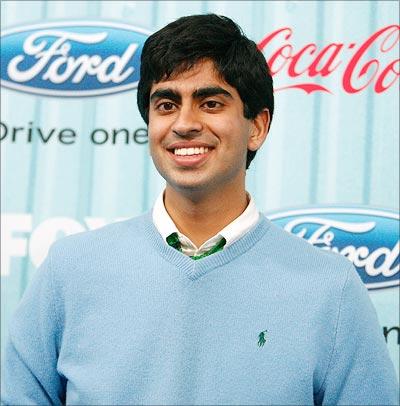 After Sanjaya Malakar, we have a new Indian star on American Idol -- and he goes by the name of Anoop Desai.
The 22-year-old college student is one of the finalists in the ongoing reality show. The soulful and very popular R&B singer snagged a spot in the finals during a special wildcard episode which saw eight finalists vying for the last three spots in the top 12.
Only this time it was not 12, but 13.
Yes, Anup -- fondly nicknamed Anup 'Brown' Dogg -- just about made it to the next round.
The judges -- Randy Jackson, Kara DiGuardi, Paula Abdul and Simon Cowel -- must have liked what they saw in the affable singer because they picked him to join the other wildcard entries Megan Joy Corkrey, Matt Giraud and Jasmine Murray.
Anoop picked Bobby Brown's
My Prerogative
to woo the judges and his fans. Earlier, Anoop failed to make the cut when he sang Monica's
Angel of Mine.
He is currently a graduate student in field of cultural anthropology, working towards a Master of Arts degree in Folklore at UNC.
The other finalists in the eighth season of American Idol are Kris Allen, Danny Gokey, Alexis Grace, Allison Iraheta, Adam Lambert, Scott MacIntyre, Jorge Nunez, Lil Rounds and Michael Sarver.
Photograph: Mario Anzuoni/REUTERS