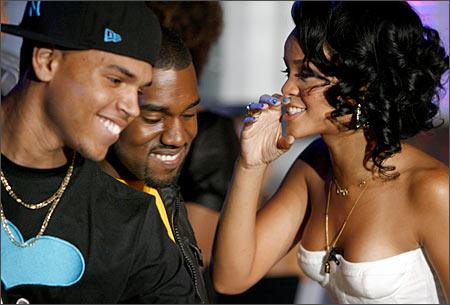 In a surprising development in the Rihanna Chris Brown saga, latest reports suggest that the couple secretly tied the knot soon after their reconciliation in Miami.
Brown, who is to undergo his first court hearing on Friday for allegedly assaulting Rihanna on the eve of the Grammys, proposed to the 20-year-old singer and married her during their Miami getaway at rap mogul Sean Combs USD 20 million
mansion, the Star magazine reported quoting sources.
Earlier reports had claimed that Rihanna agreed to forgive Brown after she realised that she was pregnant with
his child.
The secret wedding was conducted by a minister who was brought in for the spur of the moment ceremony, a source close
to the couple told the magazine.
"Rihanna is looking for the husband-and-two-kids deal before she turns 25. She believes in fairy tales, and she wants to live hers with Chris. She was totally up front and confessed to him, 'I can't live without you'", the source said.
The magazine has also published pictures of Rihanna and Brown together during their Miami holiday. The couple had
avoided being spotted together after their reported reconciliation.
Text: PTI | Photograph: Lucas Jackson/REUTERS