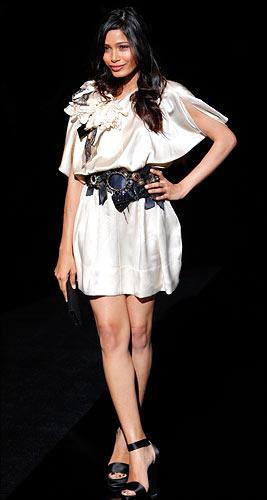 Freida Pinto, who was an unknown face before her film Slumdog Millionaire became a huge hit, recently took to the catwalk at renowned designer Dolce & Gabbana's fashion show in Italy.
Petite Freida looked a million bucks in her frilly mini-dress, as she appeared on the ramp at the Milan fashion week, reports The Sun.
She was flanked by Hollywood actress Scarlet Johansson and Kate Hudson, as she flaunted the frilly dress onstage.
Freida Pinto's acclaimed flick Slumdog Millionaire took the Oscars by storm.
Meanwhile, Freida has been signed up for a Woody Allen flick.
Text: ANI | Photopgraph: Stefano Rellandini/REUTERS