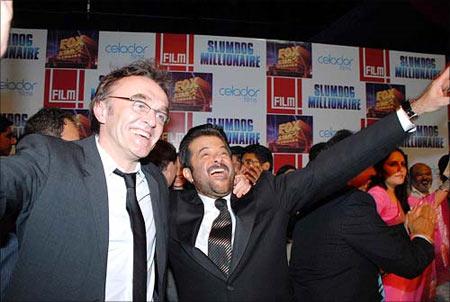 Danny Boyle is the man of the moment when it comes to cinema, his Slumdog Millionaire having garnered an astonishing ten Oscar nominations. The nominations were announced on Thursday evening, the very night of Slumdog's Mumbai premiere, and after a star-studded bash that went on late into the night, the city's filmmakers were still ready for more Boyle.
Therefore, the very next day, the Indian Independent Filmmakers Worldwide organised a masterclass, a fascinating Q&A session with director Sudhir Mishra and Boyle, discussing all of Boyle's films and his process, before opening up the floor to an eager set of filmmakers and writers.
Mishra, whose Dharavi featured a lot of the same backdrop as used in Slumdog Millionaire, is the regular host at these masterclasses, which have so far featured Shekhar Kapur, Shyam Benegal and Mira Nair. There is a lazy charm to his questioning, and a merciful tendency to let the questions digress wonderfully into different topics, and leave the interviewee as much room as he likes to deal with them. This entire Masterclass series is a tremendously welcome attempt, and the IIFW needs to be lauded for the initiative.
And so it was that a roomful of filmmakers sat with their ears perked up as Boyle called his first film, Shallow Grave, his very best -- even if he admitted it was inspired to quite a degree by the Coen brothers, especially their first film, Blood Simple. The director gave most of the credit for his seminal Trainspotting to the book's author Irvine Welsh, going on to then say that writers are the most important part of a film, and that they are universally the most shockingly treated group.
He spoke of Beach as the 'one film where you have everything you can possibly want,' and cited that as a very dangerous circumstance, going on to explain that he went off to shoot in Thailand with his big crew like an invading army, instead of letting the place tell him how to shoot it -- something that he was determined not to repeat with Slumdog Millionaire and Mumbai, which is why he came here and picked an Indian crew.
There was obviously much talk about Slumdog, and Boyle called Mumbai a city impossible to capture in film, saying that there could never be one definitive Mumbai movie, but that if you really tried, you could perhaps go on and capture a piece of it. He congratulatingly patted the audience's back, calling AR Rehman an absolute genius, and in a different league from any composer he had ever worked with.
The talk lasted a good two hours, but the audience was riveted. This is a man of laidback charisma and a sharp wit, and frequently breaks into a goofy laugh that wins everyone over instantly. Like he demonstrated with Slumdog Millionaire, clearly Danny Boyle knows how to keep 'em hooked.
In the picture: Danny Boyle and Anil Kapoor at the Indian premiere of Slumdog Millionaire in Mumbai.
Text: Raja Sen | Photograph: Pradeep Bandekar