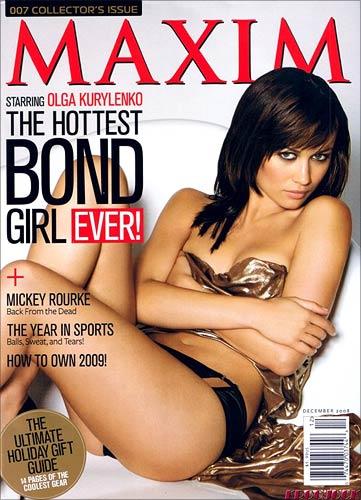 James Bond girl Olga Kurylenko has stripped bare for the men's magazine Maxim's Ukraine issue.
The actress, who preformed many action sequences in Quantum of Solace, has gone nude on screen too, reports Britain's Sun newspaper.
Olga had said last year that she's not interested in men. Following the recent break-up of her second marriage -- to American mobile phone mogul Damien Gabrielle Olga has made it a point that she would rather be alone.
'You can't judge someone by the way they look because it's actually totally different,' the Ukrainian-born actress said, adding, 'I'm not what you think I am. I'm not a person who has had a lot of romance in my life. Maybe I look like that, but I'm not a romantic person. Sorry to disappoint you.'
In Quantum Of Solace, Olga played Camille, a girl with a tragic past who is bent on revenge against the man who killed her family.
Text: ANI | Photograph: Olga poses for the December 2008 issue of Maxim Germany.