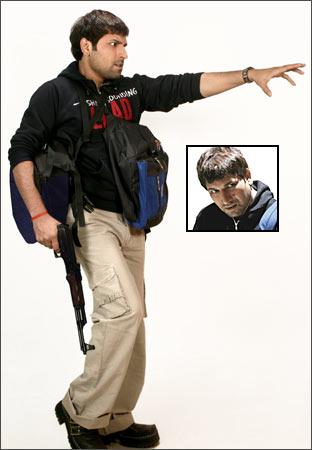 Mumbai's horrific terrorist tale on 26/11 may soon be translated on the big screen.
Titled Total Ten, the film will be directed by Surnider Suri and produced by Ram Gopal Productions (not to be confused by filmmaker Ram Gopal Varma).
The film stars Rajan Varma (in the picture), playing Ajmal Kasab, the lone terrorist who was caught by the Mumbai police, and is presently in custody.
"This role is a challenge for me. There is a message in the film too," Varma tells us. "It is that we must never becomes fidayeen as it will not lead to you anywhere. Look at Kasab today. He is in custody and repenting for his deeds. He is missing his mother in his jail cell and crying. So what is the point? What has he achieved by doing this drastic act?"
Total Ten will go on the floor next week, and will be shot in a start-to-finish schedule.
Varma has earlier acted in My Friend Ganesha. His movies, Jai Maa Jagdambe, Mumbai 118 and Deewane Ne Haad Kar Di, will release soon.
This is the first film to be made on Mumbai's terror nights. Many film personalities have registered movie titles revolving around Taj and Oberoi -- the hotels affected during the attack -- but none of them have gone on the floors yet.