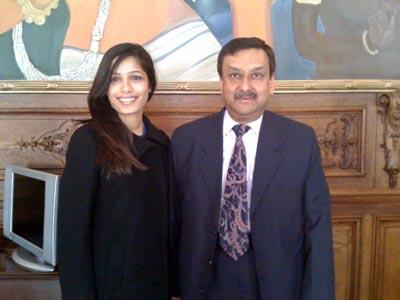 Freida Pinto may have just a few scenes in Danny Boyle's Oscar award-winning movie Slumdog Millionaire. But look where it's taken her.
From hobnobbing with some of the biggest names in Hollywood to a Woody Allen movie.
Plus, there are those magazine covers she's been on.
Freida says New York reminds her so much of her native Mumbai and if those Hollywood offers keep coming, it is that city where she is likely to to settle down.
On Wednesday, she dropped in at the Indian consulate in New York and met with India's Consul General Prabhu Dayal, right.
The actress was apparently thrilled to visit the consulate which is located in a magnificient historical building.
Congratulating Freida on her outstanding success, Ambassador Dayal said it was not important whether the movie was directed by an Indian or not as long as the storyline and the entire backdrop was Indian.
Dayal, a native of Allahabad, commended Danny Boyle's movie for focusing attention on slum children in India and said the ball was now in the court of every Indian to do their utmost for improving the lives of such children and ensuring that they are imparted good education.