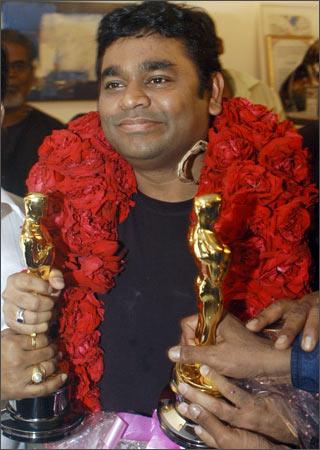 Music maestro A R Rahman, the first Indian to win two Oscars, returned to his home city to a rousing welcome by his fans and friends in the wee hours on Thursday.
The 43-year-old musician, who won the Oscars for Best Original Music and Best Song for his compositions in Slumdog Millionaire at the 81st Academy Awards, arrived at the Chennai airport from Dubai by an Emirates Airways flight at around 2.30 am.
A large number of people, who waited at the airport for the 'Mozart of Madras', cheered him up as he emerged out of the international terminal to the beats of drum specialist Sivamani and his troupe.
Kerala's "Kottu Melam" (percussion instrument) artists gave a performance on behalf of the Indian Airlines. On behalf of the state government, Tamil Nadu Information Minister Parithi Ilamvazhuthi received Rahman with a bouquet at the airport terminal.
A visibly happy Rahman waved at the crowd acknowledging their support before leaving for his home. Rahman was born in a musically affluent family in Chennai on January 6, 1966.
Rahman, who had earlier bagged the BAFTA and Golden Globe awards for his score for the rags to riches film, said he had not actually prepared his Oscar speech.
"I actually hadn't prepared my Oscar speech ...I said whatever I felt rather than something which is prepared," he said.
In his acceptance speech, a humble Rahman had said that "There is a Hindi dialogue 'mere pass ma hai' which means even if I have got nothing I have my mother here. I want to thank her for coming all the way to support me".
Recalling the moments before the first Oscar was announced, he said "I did not want to expect too much. Oscars are really very unpredictable sometimes. I am really happy that they all were very kind to me...It is great to have that highest respect, having them (trophies) in hand."
In the picture: A R Rahman holds his two Oscar award trophies at his residence in Chennai on Thursday.
Text: PTI | Photograph: Babu/REUTERS