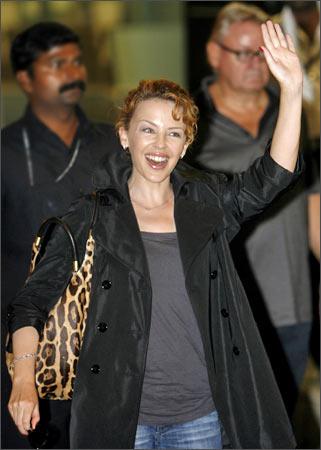 Hours after A R Rahman's triumphant return from the US after winning two Oscars for Slumdog Millionaire's Jai Ho, another star, this time from the land down under, arrived at the international airport in Mumbai on Thursday.
Aussie singer and pop star Kylie Minogue is in Mumbai to record a music video for the forthcoming Bollywood movie Blue which stars Akshay Kumar, Sanjay Dutt, Katrina Kaif, Lara Dutta and Zayed Khan.
The movie has its music scored by Rahman. The song was recorded in London by Kylie a few weeks ago. It seemed that Kylie liked the music when she first heard it and was keen on recording it with Rahman.
Farah Khan is choreographing the music video which will probably feature Sanjay Dutt and Akshay Kumar. 
The singer also has a duet with Sonu Nigam for the same film.
In the picture: Kylie waves to fans as she arrives in Mumbai on Thursday.
Photograph: Punit Paranjpe/REUTERS