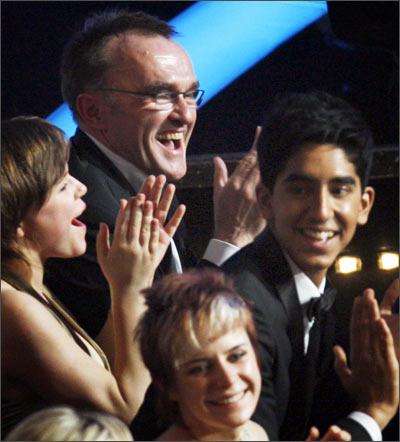 Slumdog Millionaire star Dev Patel is all set to turn reel life into real life by appearing on the Who Wants to be a Millionaire? to raise cash for starving street kids.
According to reports, the 18-year-old actor is in discussions to appear on the ITV1 game show along with the Oscar-winning movie's director Danny Boyle.
And the duo might just bring the film's leading lady Freida Pinto on line with the phone a friend option, which will be reminiscent of the film's romantic storyline.
In the film, Dev plays the role of Jamal, an orphan boy from the slums of Mumbai, who went on to win India's version of the quiz.
In the real show, the actor will play to raise the 1million dollars prize money for donating it to UK-based children's charity Railway Children, which helps children living on the streets.
 
'Danny and Dev are keen to keep on giving back to the street kids, and have been talking to Railway Children about appearing on Who Wants to be a Millionaire?' The Sun quoted a source as saying.
The source added: "Filming of the special depends on when both are available, as they are in huge demand following their Oscar success. But we hope it will happen later this year. To have Dev back in the Millionaire hot-seat would be brilliant, and would do a lot for the charity."
Terina Keene, chief executive of Railway Children, admitted that they were getting a slew of calls after Slumdog swept off the Oscars.
She further confirmed that Dev and Danny were in talks to appear on the celebrity version of the quiz hosted by Chris Tarrant.
A spokeswoman for Who Wants to Be a Millionaire? producers Celador said: "We were approached by Railway Children about doing the special -- and we think it would be fantastic. Danny and Dev would play together, as with all our celebrity specials, but filming depends on their availability."
Slumdog Millionaire scooped eight Oscars on February 22, which included Danny Boyle's Best Director award and A. R. Rehman's Best Original Score and Bets Original Song gongs.
In the picture: Danny Boyle and Dev Patel at the Oscars
Text: ANI | Photograph: Gary Hershorn/REUTERS