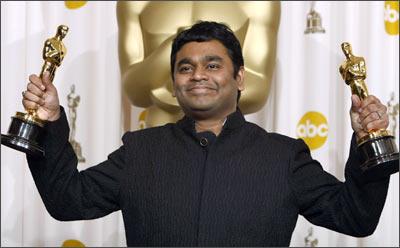 I did not prepare an acceptance speech for a simple reason,"
A R Rahman
, who won two Oscars -- for the Best Original Score and Best Song
Jai Ho
-- says as a matter of fact. "I thought
Defiance
would get for the score and Peter Gabriel would get the Oscar for best song.
"That is why I said something that came from deep inside my heart. I thanked my mother because from over 10 years she has been saying, 'You must get an Oscar, and I want to walk on that red carpet with you.'" Rahman told Rediff India Abroad's Arthur J Pais from his home in Chennai.
Her dream came true, he added. "I suddenly remembered a line from a film (later I realised it was from Deewar) in which one brother says to another that he has the mother with him and that matters to him the most."
"In my case, I saw very little of my father since he passed away when I was a boy and it is my mother who gave me the support, the confidence, and the vision," he added.
Rahman is yet to sleep as he arrived in the wee hours of February 25. "Nothing like this has ever happened to me," he says with a chuckle. "There were 6,000 people at the airport, there was a riot. I was very tired, and my mother, my wife and my sister were tired too. But how could one not refuse to spend some time with my admirers?"
Photograph: Mike Blake/Reuters