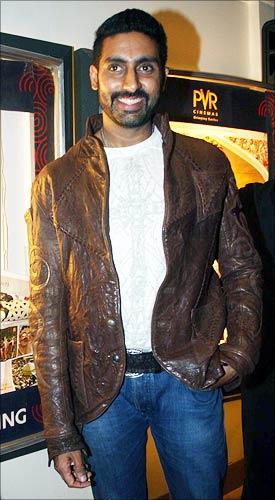 The accent coach had been signed and Abhishek Bachchan was ready to get a proper American (perhaps Boston or New York) accent. He was even preparing to speak Hindi with a bit of American accent.
After all, his character Roshan who is visiting India with his grandmother (Waheeda Rehaman) was born and raised in America in the movie Delhi 6.
"But we discussed the matter quite a bit and decided against using the American accent," Abhishek who was in New York for the world premiere of the film directed by Rakeysh Ompraksh Mehra says. "Yes, I use a slightly accented English when I speak a few lines in the film but that was all."
He says both Mehra and he feared as the shooting began that the American accent could distract the audiences not only in smaller cities and towns but also even in big cities.
"This is not just a multiplex film which can get away with that kind of an accent or a lot of English dialogue," he continued. "It was having a wide release, nearly 1000 theatres showing it in India."
"We felt that the audiences may laugh at me using the American accent and Americanised Hindi," he continued. "Instead of paying attention to the film, particularly what Roshan was saying, they could be laughing at it. We simply did not want that kind of a distraction."
He also did not want to the audiences to get a wrong impressions of overseas Indians conveyed inadvertently through the accent.
"I have studied in America, I have lived here," he added. "Roshan returns to India in the film but I keep coming back to America not only to work but also to meet friends. New York like a second home to me and we were glad that the world premiere of the film was held in New York at the Museum of Modern Art."
"I have often feel that many Indians abroad are more Indian than many of us back home," he added. 
 
Though Abhishek and Mehra were to do their first film Samjauta Express over a decade ago (which now has been shelved), the filmmaker started his career with Amitabh Bachchan. Though their film Aks was not a box office hit, the two remained good friends.
Amitabh has a few minutes in Delhi 6 which are very important to the movie. The CD of the film carries Prasoon Joshi's poem Noor recited by Amitabh.
"My father was signed for the film even before I came aboard," Abhishek says with a chuckle. "In fact he was the first one to be signed. Rakeysh says he cannot think of making a film without my father."
The film has had a decent opening, grabbing about $6.4 million in three days from across the globe. It will open in Australia and a few smaller territories coming Friday.
"We hope that the film will have strong legs for many weeks," Mehra said. "In a way it is a relief that it is out there because there is always the temptation to tinker a little more. We have been doing it for several months. We even held previews in several small cities and big towns. Now, its fate will be decided by the audiences."  

In the picture: Abhishek Bachchan promotes Delhi 6 in Mumbai.
Text: Arthur J Pais | Photograph: Pradeep Bandekar