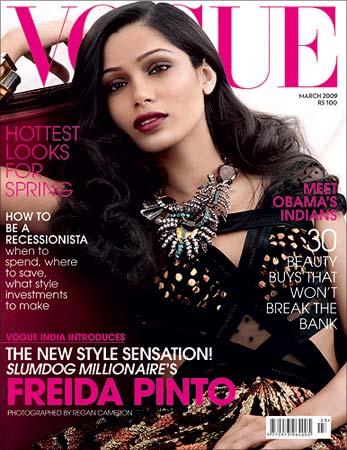 After wowing fans with her acting and lately, her fashion sense, Freida Pinto is now the cover girl of Vogue magazine.
Pinto, 24, who was signed on by Hollywood filmmaker Woody Allen, posed for the cover of Vogue's March issue.
The magazine which hits stands today, features exclusive interviews about life before the Oscars, bonding with Oprah Winfrey, Leonardo DiCaprio and her future plans.
Slumdog Millionaire's Latika caught the attention of New York's hip fashion commentators, the Fug Girls; she even topped style.com's 10 Best Dressed List in February -- beating Renee Zellweger and Wendi Murdoch.
At the Vogue shoot, when a reporter asked stylist Tiina Laakkonen why Pinto isn't being dressed exclusively in Indian fashion, Pinto grabed a pencil and scribbled her answer on a scrap of paper, 'Because she's international now!'