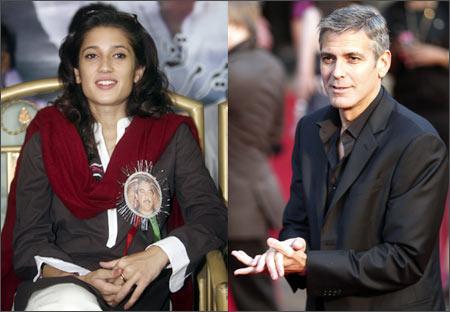 Are George Clooney and Benazir Bhutto's niece Fatima an item?
If the National Enquirer is to be believed, the Hollywood star and the 26-year-old niece of slain Pakistan leader are engaged in 'secret romance'.
According to the tabloid, Clooney was so 'smitten' by the 'brainy foreign beauty,' after meeting her at an international conference last year, that he started a long distance relationship with her.
Fatima, an outspoken journalist, lives in a prosperous suburb of Karachi with her brother and step-mother.
'George has courted her by phone and e-mail, and arranged to meet her abroad when their schedules allowed,' a friend of Clooney told the paper. 'Now he wants her to spend time with him in Hollywood. He's still out there with his usual assortment of eye-candy hanging from his arm. But George insists those days could be coming to an end if Fatima wants to take their relationship to the next level.
'Fatima was educated at Columbia University [in New York] and knew of [Clooney's] heart-throb rep,' said the Enquirer. 'But she didn't take his advances seriously because she thought their age difference would make a serious relationship impractical.'
Impractical or not, Fatima has shown a steely determination where politics is concerned and has often criticized Pakistan's government in her columns. An avid thinker, whose book of poetry, The Whispers of the Desert, and a memoir of the 2005 Kashmir earthquake was published recently, is also reported to be contesting her late aunt's former seat in the Larkana constituency in the next elections.
Fatima's photograph: Zahid Hussen/ REUTERS. Clooney's photograph: Stephen Hird/ REUTERS