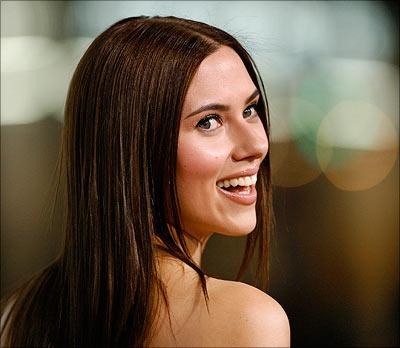 Scarlett Johansson has dyed her trademark blonde locks brunette, and flaunted them at the premiere of her latest film He's Just Not That Into You.
The stunner was joined on the red carpet by her co-stars Jennifer Aniston, Drew Barrymore and Jennifer Connolly.
He's Just Not That Into You is based on the popular dating book of the same name by Sex and the City writers Greg Behrendt and Liz Tuccillo.
Aniston was looking gorgeous in classic black suit and BA Baracus gold chains, reports the Sun.
In an interview last month, the beauty had said that she loves her natural blonde hair colour and feels that guys really do prefer blondes.
She says, 'I am blonde in my own natural way. This is my natural color. I have a few highlights and I love it like that.'
Text ANI | Photograph: Mario Anzuoni/REUTERS