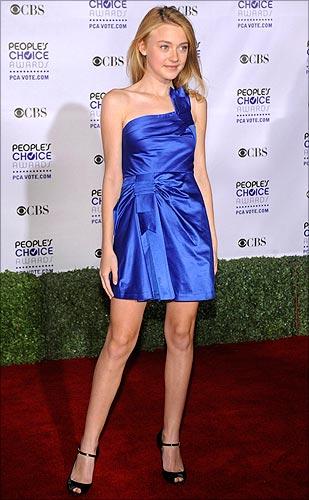 Teen actress Dakota Fanning may star along Robert Pattinson in the sequel of the romantic-fantasy film Twilight.
Though confirmation is yet to arrive, the 14-year-old revealed that the reports were not unfounded, and that she would be thrilled to be a part of the project.
'Those reports are definitely not untrue, it is definitely a possibility,' Fox News quoted her as telling Tarts.
'It is too soon to say it would be a sure thing, but I think it would be a fun opportunity for me,' she added.
The Hounddog star, however, insisted that she further fancied herself a with a college degree, and may put her an acting career on hold to chase her academic dreams.
She added: 'I definitely want to go to college, I've always thought it would be a great experience. I'm not sure what I'll study but I've always wanted to go to UCLA.'
Text: ANI | Photograph: Phil McCarten/REUTERS