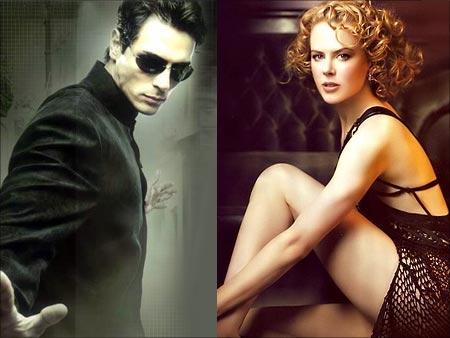 Arjun Rampal recently shot for an ad with Nicole Kidman when she came down to India last month. The two are endorsing Schwepps, a beverage company.
The ad was directed by Shekhar Kapur, and also featured Rubina Ali, the child star in Slumdog Millionaire. It was produced by Ridley Scott (who has directed films like American Gangster, Hannibal and Gladiator), and was shot in Udaipur, Rajasthan.
"Nicole is very professional and totally involved in her work," Rampal says. As a parting gift, he gave her a Tarun Tahiliani sari -- an Italian metallic chiffon sari with tiny swarovski crystals sprinkled on it.
"Our five-day shoot was hectic; we shot during the nights and rested in the day, which left her no time for shopping. I thought it would not be good for her to leave the country without taking anything. That's why I gave her the sari. She was very thrilled," Rampal says.
He adds that Shekar is a fantastic director. "The ad was very well shot, very stylish and funny towards the end," he says.
Not many know that Kapur and Rampal are good friends, and it was this director who had recommended Rampal's name to Scott for the ad. Kapur and Rampal may even work in a film in the near future.
Text: Patcy N