In the past, I have lamented the lack of quality blogging coming out of Bollywood, most actors and filmmakers using it to get back at media criticism, take jabs at other actors, and essentially just showing us how alarmingly self-involved and insecure they all are. (You can read that piece right here: Why angry old men shouldn't blog.
All, you ask, with the magnifying-glass insight of one who doesn't let an oversight sneak through. And you are right, for -- like an indomitable little Gaulish village holding on against all odds -- there indeed exists a tribe of filmi bloggers from our very nation who use the medium wonderfully well, provide insight and perspective and humour, and deserve to be celebrated. These are the folks making sure the sky isn't falling on our heads just yet.
Thus this companion piece, because if we can decry the bad, must we not rejoice in and share the good?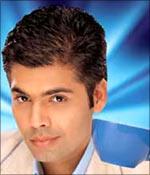 My first recommendation might initially seem an unlikely one. Director Karan Johar's blog is named mynameiskaran.com, and heading there I feared a flash-filled site complete with a Vishal-Shekhar version of the James Bond theme. Yet this is a simple, neat blog, a journal minus film-stills (for the most part, and those that are occasionally posted are folded into the mix quite tastefully) and one that eschews all bling.
As a writer, Johar delves into things with fascinating self-deprecation, waxing solemnly on our industry's current state, and occasionally cheekily about its follies. Some of the writing is surprisingly poignant, and not just is Johar articulate, but this great blog -- like an interview he once gave to Tehelka -- shows the candour and intelligence behind the frequently-fluffy chat show host.
Here's a sampling that made me both grin and applaud:
'Favorite conversation piece at fraternity affairs: critic bashing. It's more fashionable than bling (Bappi's back!) From saying they are bought to calling them biased, we don't leave a single stone unturned. We take all the critics' comments personally and feel it's a vendetta against us. But we love the persecution complex. It's our favorite emotion. To think of it as an objective point of view is something we just cant wrap our heads around. Maybe we actually made a bad film??? Oh god, how could I have just said that?! We never make bad films, we make "misunderstood cinema", understood? All this can change because all it takes is a 4 star review (5 stars would be pushing it) and paragraphs of gush and we're back on track. A critic is on our speed dial, he's a member of our family, it's all about loving the critics all over again. The next step is to give full-page ads in leading newspapers highlighting the critic's comments in "inverted commas." Double standards?? Don't be silly; we think it's our birthright.'
--
A fine blog that has gleefully stayed under the radar and skipped publicity is that of Shekhar Kapur's. Go visit http://www.shekharkapur.com/blog/ at the earliest, because even if the Masoom filmmaker characteristically likes to avoid the spotlight, this is a blog that deserves it. Frequently dabbling in verse or speaking about world politics, Kapur's longrunning blog is as eclectic as his filmography -- which, by the way, only haunts it rarely, coming in little nostalgic bits and pieces from time to time. This is clearly a gentleman with a lot on his mind besides cinema, and his opinions make for quite interesting reading.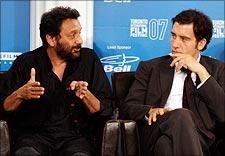 Frequently opining on current events around the world -- Shekhar has much to say about Barack Obama, for example -- his takes are often witty and always incisive. Here's what he said about the state of the collapsing world markets, to give you a taste of the blog's eminently readable flavour:
'I remember playing three card brag, where no one was sure of their cards or strategy, and so everyone played blind. The stakes got higher. And yet the 'bank' got richer, and the players, too afraid to now open their cards just n case, decided to keep bluffing their way through, and kept adding complex sets of rules and dealing new cards with new rules. By now it looked less and less a game of chance for the new rules gave it an illusion of structured control. And by now no one really wanted to look at each others cards, or their own, for no one could afford to lose. The game was the tiger they hoped they would never would have to get off. Till one had no choice - or lost faith. To find that no one had any cards to speak of...
This reminds me of what is happening with Lehmann, AIG, Merrill Lynch, Fannie and May, Freddie Mac etc -- one great card game that no one thought would end.'
--
And finally, one from the other side of the fence. It's all well to see filmmakers and actors speak about their work -- and mercifully, about much more than just cinema -- but perspective is also to be found with those who comment impartially on cinema, with the critics and journalists. Or so, at least, should be the case.
In this vein, I recommend to you Sudhish Kamath's blog at sudhishkamath.com, by The Hindu's resident film critic. Called Textual Overtones, Kamath's blog mixes up uncut versions of his newspaper work -- meaning you get to read some of the sharpest writing around on Southern cinema, as well as Hindi, English and regional reviews so bloody irreverent they make mine seem Sunday-Schooled. In his Mission Istaanbull review, for example, written entirely in a one-liner driven Q&A, Kamath cheekily asks why Abhishek Bachchan is doing an item-number in the film. His hilarious and delightfully politically incorrect answer: 'To console Vivek Oberoi that he also does things apart from Oberoi's ex-girlfriend.' Heh. It's a good thing he's a far few hundred miles away from Mumbai, that guy.
An indie filmmaker, Kamath frequently speaks about his ongoing projects and the way he goes about making them. It's a smart blog which involves both solid writing and that all-important personal touch.
--
Clearly these guys need to share their magic sanity potion with the rest of their movie-blogging brethren. For now, at least we have something fun to read, and by Toutatis, that's always good.
What is your favourite Indian film-based blog? Or are you just tired of everyone jumping on the blogwagon? Write in to me with brickbats, bouquets and blog-suggestions at senterfold@rediffmail.com. Cheers and see you next week.