I've been watching the promos of Drona, and -- despite thinking Priyanka Chopra looks attractive enough to drive a man to utterly salacious thoughts -- I must say I'm not at all impressed.
Not with the film itself, of course. Trailers are hardly ever indicative of good films, and we really can't judge Goldie Behl's decidedly ambitious film before it even hits the marquee. Lets hope, however, that Drona is more exciting than purported by the current publicity blitz.
My concern lies with the film's leading man. Abhishek Bachchan is playing some sort of mythic superhero and -- while there could definitely be something interesting bubbling under the bright-gold surface -- the actor seems decidedly miscast in the role. Again, we are judging based on pre-release imagery, but even if the role is a great one, I daresay most of us would be surprised. There's just something about Abhishek that doesn't quite lend itself to a simplistic superhero movie.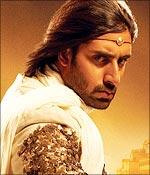 That something, of course, is subtlety. Bachchan Jr has always stood out from his Bollywood peers simply by dint of being gracefully understated. Even as Hrithik and Kareena have gone ape trying to outdo each other in hamming competitions in Barjatya movies, Abhi's stood around them and just chilled, cool as a cube of ice, suave as a secret agent. When unburdened by the groanworthy lines, that is. Yet he carried off, in a way, even those slivers of over-the-top dialogue. There was a glorious touch of irony in his manner.
The subtlety came to a high in his collaborations with buddy Rohan Sippy. Kuch Naa Kaho might not have been a wonderful movie, but Bachchan -- who had unfortunately, inevitably, tripped over a line of ape-your-daddy movies -- found his footing, delivering an assured, relatable performance.
Then came Yuva, Phir Milenge and Naach -- his 'acting' movies -- where he showed us that under all the low-key coolth was a performer waiting to explode. And at the same time he starred in uber-popcorn roles like Dhoom and Dus, the latter even working as a film -- I believe -- largely because of how fly Bachchan came off in the title song.
Rohan's Bluffmaster took this a step forward. Suddenly we had a hero dripping with style, a chic and sophisticated leading man who could carry off twisty plots with panache. Even in Kabhi Alvidaa Na Kehnaaa, his angry young man -- it had to be said, sorry -- was the sole true performer while other, higher-paid actors wept and wallowed.
Even in Dhoom:2, it was almost like he was trying to be the antithesis of cool. In a film based solely around 'look,' Bachchan fell so far behind the pack it seems almost as if the intelligent non-conformist within him shunned the blockbustery charade, and took it on himself to be the anti-kewl. And then he did a Guru, so we were clear on the performer still being alive and kicking.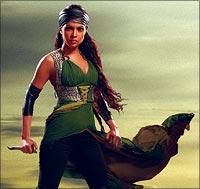 So now, why the farces? Why the Jhoom Barabar Jhoom and the Laaga Chunari Mein Daag? Oh right, the banner -- but do insist on interesting characters, Abhi. Sure you simmer well in the Sarkar movies, but do remember that camp is not your thing at all. Even the ludicrous Bunty Aur Babli only 'worked' because of the between-the-lines moments of pure idiocy you tossed in.
Clearly, you are all about the details.
Which is why it pains me to see you, Abhishek Bachchan, painted in gold and out to save the world.
Leave that to the bicepped brigade, and you go hunt for a nice, witty, dialogue-heavy script that lets you stay in the shadows. At least till our desi superhero genre becomes as conflicted as Iron Man or as dark as The Dark Knight. Because you deserve to be in something truly interesting, not just a moneymaker.
Good luck with Drona, Abhi. We just make this request because so few of our leading men can actually be subtle -- and it's depressing to see one of them falling prey to formula. May the force be with you.
What's your take on Abhishek? Love him, or think he isn't worth a columnful of attention? Or dying to see Drona? Mail me with Bachchan-quotes, brickbats and whatever you like at senterfold@rediffmail.com. Cheers, and catch you next week.