Jesse Metcalfe, whose appearances in the Desperate Housewives television series has made him famous, can spin off a dozen stories of shooting his newest film The Other End of the Line, in Mumbai. "I think I will never forget my Indian stay," he says, "But if there is one thing that sticks up, it is an unscripted scene that director James Dodson shot."
The scene involved Metcalfe racing through Mumbai traffic.
"It was actually the Mumbai traffic," he says, laughing. "No roads were shut down to shoot the scene. We trusted our luck and shot it, and I am proud the way it came out."
To the American popular media, Jesse Metcalfe is a 'shirtless beef,' as one fan magazine wrote. He is also known for the film John Tucker Must Die, a modestly budgeted comedy, which went to earn about $40 million in North America. The film was a hit in many countries in Europe, earning about $10 million from its British and German run alone.
This is the first time he is cast opposite an Indian actress, Shriya Saran. The Other End of the Line is a cross cultural love story produced by Ashok Amritraj and distributed in North America by MGM. It opens today in the US.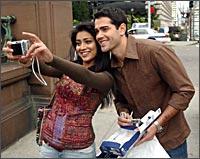 The film focuses on an unlikely romance between a spunky Indian call center operator (Shriya) and an American customer (Metcalfe) she falls in love without meeting him. Ditching her Indian fiancé, and without telling him or her parents, she flies into San Francisco and makes many discoveries, some pleasant, some disturbing and a few startling.
"My character in the film learns to connect the two cultures -- American and Indian," Jesse says. "I think I was able to do so in my own life. So I will always say that this film was a life-enhancing experience."
The film created quite a bit of buzz not only for Metcalfe but also Shriya, who is featured in her first Hollywood film. Shriya, who has worked in 30 films in the last six years (including the Rajnikanth-starrer Sivaji:The Boss), could not have asked for a bigger Hollywood break than The Other End of the Line.
'What makes The Other End of the Line a unique project for Metcalfe is that he fell in love with his co-star, Shriya Saran,' wrote Boxofficeprophets.com. 'That's right. One of the hottest actresses in Bollywood is now hooking up with one of the hottest actors in Hollywood, creating the possibility of some sort of ethnically diverse super-baby down the line.'
"Everything that happened in this film was quite spontaneous," says Metcalfe. "We got along fabulously well with our Indian co-artistes including Anupam." Anupam Kher plays Shriya's nervous father, who follows her to San Francisco along with his wife, hoping to persuade her to return to India to her fiancé.
Metcalfe says he chose the film 'because every artist looks for a film to advance his or her career.'
In an interview with an American magazine he said he doesn't miss his role as the gardener in Desperate Housewives. He acknowledges that it was a huge opportunity and he had a lot of fun. 'But leaving the show was a blessing because I could have still been playing John Rowland five years later,' he had said. 'Now, I've gotten to play some really interesting, complex characters in feature films.'
Jesse clearly cannot get over Mumbai. "I came back from Mumbai having glimpsed an entirely new and vibrating culture," he said. "I think I grew as a person spending several weeks shooting in Mumbai. I got to know the city quite well. Initially, like any other American tourist, I underwent a cultural shock. The city is densely populated. It has plenty of beauty and plenty of poverty. But I also realised soon that the poor people were trying to be resourceful and weren't taking their poverty for granted. And they had a sense of community. And many of them were trying to empower themselves."
Much of the film, including the hotel and restaurant scenes that take place in San Francisco and New York, were shot in Mumbai. "People won't realise this unless you tell them so," Metcalfe says with a chuckle. "Even then you will find hard to imagine how well Dodson and his team managed to do it."