One of the most eagerly awaited movies this year, the new James Bond adventure Quantum of Solace is only a few weeks away from hitting more than 3,500 movie theatres across America and Canada.
But before that, a special boxed DVD edition of Daniel Craig's 2006 film Casino Royale will hit the stores. It will include deleted scenes like Bond's pursuit of his first kill in Pakistan, Bond in the hospital following his torture, and Bond and Vesper in Venice. Another highlight is Ian Fleming's Incredible Creation, a featurette focusing on the life of the novelist, who created the James Bond character in the 1960s. Screenwriters Paul Haggis, Robert Wade, and Neal Purvis offer their thoughts on Bond and other spy novels.
The last week of October and the next two weeks will see many more movie hits in DVD and, in most cases, Blu-ray versions. Most DVD store chains as well as amazon.com and booksellers such as Borders and Barnes & Nobel offer DVDs and Blu-ray editions at about 30 percent off the cover prices; the former are available for around $23 and the Blu-ray versions for about $27.
Paramount, which had a huge success the past month with the DVD sale of Iron Man and Indiana Jones and the Kingdom of the Crystal Skull, will be coming out with Tropic Thunder, a serious comedy, which has become quite a hit, grossing $180 million worldwide and still counting.
Universal is coming out with the Ed Norton version of The Incredible Hulk. Though the $150-million film was not a huge hit (it grossed about $280 million worldwide), it got good reviews. Warner is releasing, with 2-D and 3-D glasses the DVD and Blu-ray editions of one of its recent hits, Journey to the Center of the Earth, a modest budget film that has grossed $200 million worldwide.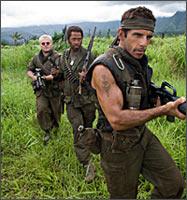 Paramount gives out a 'warning' to the aficionados of Tropic Thunder, which like the Mel Brooks films especially Blazing Saddles, is a hilarious comedy that dares to be politically incorrect. Of course, the film directed by Ben Stiller seeks to condemn bigotry and racist attitudes. But some people may not appreciate its subversive humour and take it for face value.
'The most outrageous comedy blockbuster of the year,' the Paramount 'warning' notes, 'explodes in an unrated director's cut on DVD and Blu-Ray -- Hysterical Box Office Smash Takes Audiences by Storm November 18, 2008 with Never-Before-Seen Footage, an Alternate Ending, a Hilarious Faux Documentary, Commentaries and Much, Much More!'
Ben Stiller's satirical drama about the making of a Vietnam War movie features Stiller himself, along with engaging performances by Jack Black and Robert Downey Jr among others. But the real surprise, when the film was in its first week, was a cameo by Tom Cruise as an aging and repulsive showbiz magnet. Though by now the performance has been much discussed, it still holds the attention because of the persona Cruise has adopted.
The movie has received some of the best reviews of the year: 'The best comedy of the year,' declared Newsweek while Rolling Stone said it 'will blow your mind.' And San Francisco Chronicle warned the viewers that the film is 'laugh-until-your-stomach-hurts hilarious.'
The film follows five actors on the set of a Vietnam War movie, who are suddenly moved from their comfort zone into real-life danger and compelled to become the fighting unit they're portraying.
'Oh, what a lovely war movie Ben Stiller and his platoon have concocted in Tropic Thunder,' enthused The Hollywood Reporter. 'Stiller -- who stars, directs, co-writes, co-produces and probably acts as animal wrangler as well -- imagines a lost patrol of self-absorbed yet terminally insecure actors working on a war movie to end all war movies in Southeast Asia only to wind up in a real-life combat with narco-terrorists.'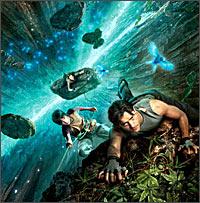 Inspired by Jules Verne's novel, Brendan Fraser-starrer Journey to the Center of the Earth did not get good reviews but the 3-D film proved to be an audience favourite and that factor could make the DVD and Blu-ray versions quite a hot sale. Fraser and director Eric Brevig offer commentary about the film, and the movie is accompanied by three making-of featurettes.
Fraser plays a geologist, who retraces the steps of his brother, who died searching for the center of the earth. With his 13-year-old nephew (Josh Hutcherson, Bridge to Terabithia, Zathura) in tow, along with a Icelandic woman (Anita Briem) in the role of guide, the professor courts danger, adventure and excitement.
'In 2-D, it's all achingly familiar,' Rolling Stone wrote. 'In 3-D, the story comes alive, despite the tacky sets and gimmicks. Put on those glasses and you get toothpaste spat in your face, a T-Rex breathing up your nostrils, and what may be the longest fall in movie history. I don't know if 3-D could improve all movies (nothing could make The Love Guru funny) but it sure works here.'
Fraser enjoyed yet another -- and bigger -- hit this year when The Mummy: Tomb of the Dragon Emperor grossed nearly $400 million worldwide.
Comedy lovers may find it difficult to resist Abbott & Costello: The Complete Universal Pictures Collection. The slapstick lovers will never run out of laughs with this 15-disc boxed set packing 28 comedies from Bud Abbott and Lou Costello. The films in this inspired collection were made between 1940 and 1955. They include One Night in the Tropics, Abbott and Costello Meet the Mummy: In the Navy and Keep 'Em Flying.
In Time of Their Lives, we find Costello as a ghost haunting a mansion; the film offers cameos from the Universal horror lineup such as Boris Karloff, Bela Lugosi and Lon Chaney Jr.
'For the first time ever, all 28 films produced during the height of their popularity at Universal Pictures are available in one collection,' says the press release. 'Featuring their most popular movies such as Buck Privates, Who Done It? and Abbott and Costello Meet Frankenstein, this collection is filled with some of the most hilarious routines of all-time including Who's on First? Loaded with hours of bonus features and an exclusive collectible book, this is the ultimate tribute to two of the funniest, and most enduring, comedians of all time!'