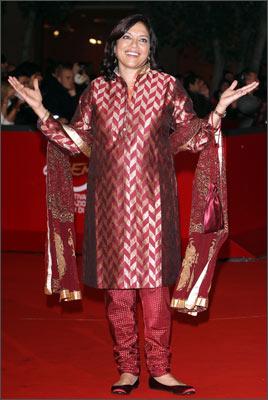 What is Mumbai's relation to New York?
Well, that is what two of the most prominent Indo-American cultural figures -- director Mira Nair and author Suketu Mehta [Maximum City: Bombay Lost and Found] will discuss on November 7 at the Times Center, in Manhattan.
The event called Bombay/NY: An Evening with Mira Nair and Suketu Mehta, which is presented in collaboration between Museum of the Moving Image and the Mahindra Indo-American Film Festival, will include a conversation moderated by the Museum's Chief Curator David Schwartz, a screening of Nair's short film Migration, and a reading by Mehta from his book, Maximum City.
Migration, starring Sameera Reddy and Irrfan Khan, looks at AIDS as a class leveler in modern society by following its transmission through interweaving stories linking urban and rural India.
Nair, whose acclaimed films include The Namesake, Monsoon Wedding, and Salaam Bombay!, is collaborating with Mehta on several film projects.
The programme is part of the Mahindra Indo-American Film Festival, from November 5 to 9, presented by the Indo-American Arts Council. The festival features New York and US premieres of independent Indian and diaspora films, panel discussions, and special events.
In the picture: Mira Nair attends the 8 premiere during the 3rd Rome International Film Festival on Thursday. Photograph: Franco Origlia/Getty Images.